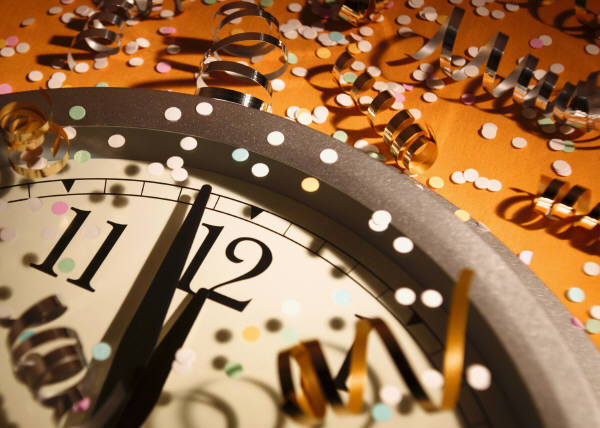 You may wonder where my Christmas update post is.  The truth is I don't have one.  It was a nice Christmas for us all.  We didn't do as much service as I would have liked, but neither did we have so much stuff Christmas morning that I wanted to ban all future presents from my home forevermore.  Spencer got a bike and some cars, Jack a Woody Doll and some cars (he was literally shaking with excitement as I was opening that Woody Doll), Lucy got some crocheting supplies and a couple of her very own cookbooks, Emma some Tinkerbell story books and some cross stitching kits (which she loves).  They all got the obligatory clothing from us and some much adored jammies from Grandma and Grandpa.  And I threw in a lot of bath soap just for good measure 🙂
All in all it was a good Christmas without any fighting and without too much mess.  Which is exactly what I was after.
I am usually far more excited about the new year than I am about Christmas and this year is no different.  I love fresh starts (maybe that is why Monday is my favorite day of the week).  I love being able to put negative things in the past and look forward to potential greatness.  Cheesy I know, but true never the less.  So I've spent the week making a mental list of realistic resolutions and as well as dropping a few of them when I realize how unrealistic they actually are.
Obviously I would like to loose weight (doesn't every one?).  I've heard all of the talk about how it's not how you look but how healthy you are yada yada yada.  But frankly, I don't care.  I want to be able to fit into my jeans.  If I look pregnant, I want it to be because I am actually pregnant (which I'm not). I no longer want to be the pudgy girl who can run fast (there are so many other ways I would rather blow people's expectations of me).  Running alone is only enough for me to maintain my current weight (I know this because I haven't run consistently since Thanksgiving and the numbers on the scale have testified this to me.)  I'm back on myfitnesspal.com and I'm praying (literally) that this time I won't get so stressed and overwhelmed by counting calories that I cry (if anyone wants to friend me on myfitnesspal.com just shoot me an email).  I'm also upping my workouts.  I'm not going to exclusively run.  My goal will be to do a video in the morning with the kids and a run or stationary bike at night five days a week with a longer run (up to 12 miles) once a week.  That might sound drastic, but sometimes you need drastic.  I would love to be able to run a half-marathon at any time..  My juicer will be giving me my daily green drinks (which I love) and my new Vitamix blender will be helping me keep the hunger away in between meals.
I do have a few other goals beyond the obligatory weight loss resolution.  One is to be more consistent with our homeschooling.  It's not that we don't learn enough, it's more that the "schedule" seems to change a little too often to give anyone a sense of what they can expect ("I thought we had school upstairs in the afternoons!").  Every couple of months I get a new brilliant idea on how format things and I change things up.  This year I would like to have an idea of how my day should look and then stick to it.
We are adding a new subject to The Wilson Academy this year.  We will be adding "Project Hero Worship" to our school.  More to come on that later.  But I'll give you a hint.  It doesn't involve men or women donning capes and masks.
This last goal is something much more for personal fulfillment than any of the others.  This year I have read at least 35 books.  This list is not including children's books, books I have read before, books I haven't finished or books I can't remember.  27 of those books have been non-fiction.  I would like to beat that in 2012.  Of the 36 books I read in 2012, I would like to include the following:
The Road to Serfdom by F.A. Hayek. I can no longer only hear about this book. It's time I read it.
Democracy in America by Alexis de Tocqueville. You can get this one for free if you have an ereader.
The Wealth of Nations by Adam Smith (Though this may take me two years since it's extremely long). I'm pretty sure this you can also get for free for ereaders.
The Theory of Moral Sentiments also by Adam Smith. Word is on the street that you can't read one without the other.
In Defense of Food by Michael Pollan
Les Miserables by Victor Hugo. Ereader also free (I love old books!)

On a more spiritual note, I am going to try my hand at topic driven scripture study.  Also more on that later.
What are your goals for the next year?