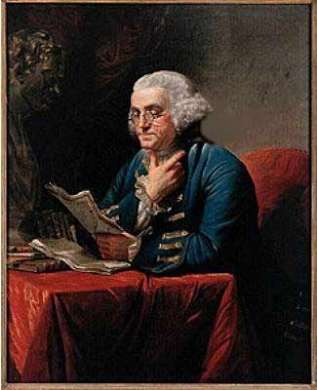 One of the things that I love about reading about our Founding Fathers is reading all of the quotes from people much more wise and articulate then I am.
Here are a few gems from Benjamin Franklin:
On God
I conceive for many Reasons that [God] is a good Being, and as I should be happy to have so wise, good and powerful a Being my Friend, let me consider in what Manner I shall make myself most acceptable to Him.
Next to the Praise due, to His Wisdom, I believe he is pleased and delights in the Happiness of those He has created; and since without Virtue Man can have no Happiness in this World, I firmly believe He delights to see me Virtuous, because He is pleas'd when He sees me Happy.
– Articles of Belief and Acts of Religion
On College and University Students
They learn little more than how to carry themselves handsomely, and enter a Room genteely… and from whence they return, after Abundance of Trouble and Charge, as great Blockheads as ever, only more proud and self-conceited.
-Silence Dogood Letters  May 14, 1722
On Marriage
It is the most natural State of Man, and therefore the State in which you are most likely to find solid Happiness… It is the Man and Woman united that make the compleat human Being. Separate, she wants his Force of Body and Strength of Reason; he, her Softness, Sensibility and acute Discernment. Together they are more likely to succeed in the World. A single Man has not nearly the Value he would have in that State of Union. He is an incomplete Animal. He resembles the odd Half of a Pair of Scissors.
On Character and Commandments
I grew convinc'd that truth, sincerity and integrity in dealings between man and man were of the utmost importance to the felicity of life… Revelation had indeed no weight with me, as such; but I entertain'd an opinion that, though certain actions might not be bad because they were forbidden by it, or good because it commanded them, yet probably these actions might be forbidden because they were bad for us, or commanded because they were beneficial to us