Lucy has been begging for months to learn how to cook.  Specifically she wants to make dinner.  I've been putting her off forever because it's just easier and faster to do it myself.  But just because something is easy and fast in the short term doesn't mean it is good in the long term.
So I let her help me with this months menu and she picked a handful of recipes that she would make for us.
Monday night I begged her to debut her culinary career with baked potatoes.  But she wasn't interested.  She wanted to make Creamy Corn Chowder out of my Our Best Bites cookbook.
So I took a gulp, took a breath and taught her how to use a sharp knife.  Like with the sewing machine needle I drove the fear of God in her about the sharpness and the great damage the knife could do if not respected and handled correctly and carefully.  I showed her how to cut a potato, then we moved on to onions.  I stopped hovering and breathing heavily for long enough to take a few pictures.  It will probably take a few more years before I can get myself to let her do it unsupervised, but I'm still proud of her.  This girl is very old for her age, which is why I concede to teach her to do things like this.  This article also helped.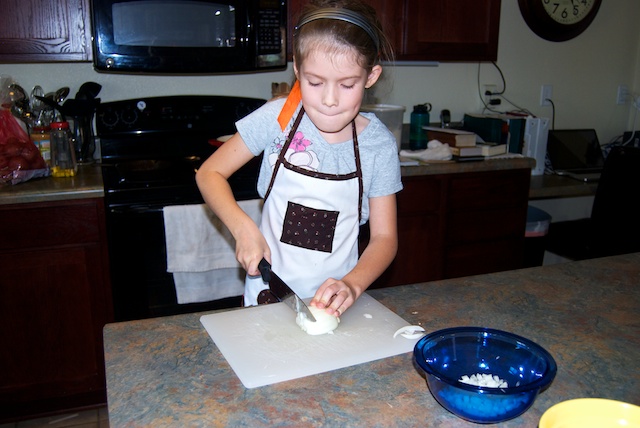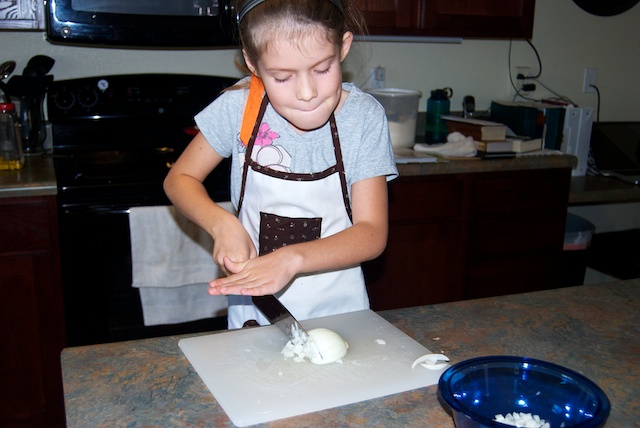 My favorite part of the night was when Lucy said "I worked really hard on this so I don't want to hear you say you don't like it!"  I haven't heard that from Lucy in years, but it makes me want to teach Emma and Spencer to cook, maybe they'll appreciate our meals more.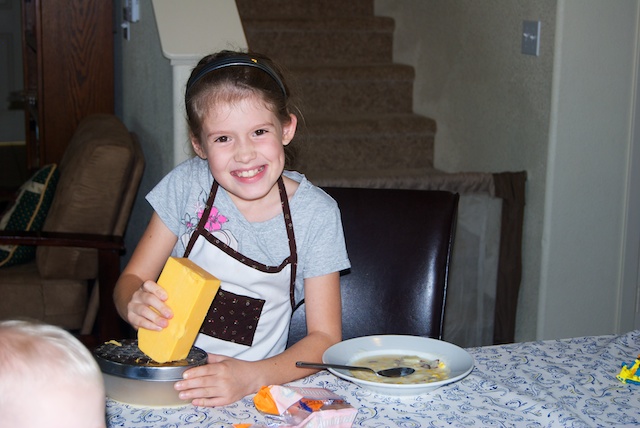 It was a big hit!  I've made it before with much less resounding applause, so I don't know what she did differently, but everyone (including Matt and me) liked it better than when I had made it a few weeks ago.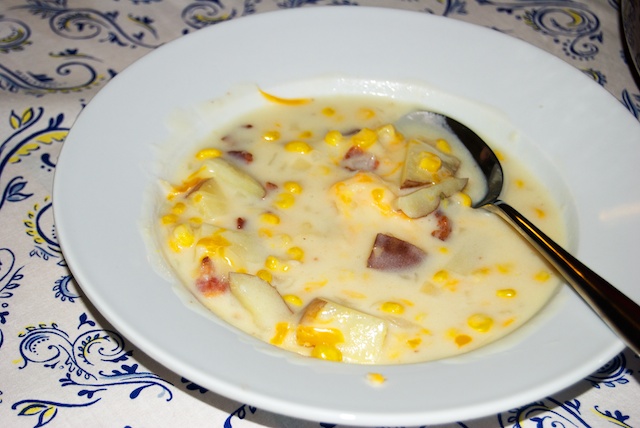 I didn't get a picture of it, but Jack was absolutely NUTS over this chowder!  He had his little plastic spoon and literally turned his little seat inside out trying to get out while buckled in and attacked my bowl with it!  It would have been funnier if there had been enough for me to have seconds.  As it was, we had to ration it and I wasn't about to share my bit.  Next time, we're doubling it.