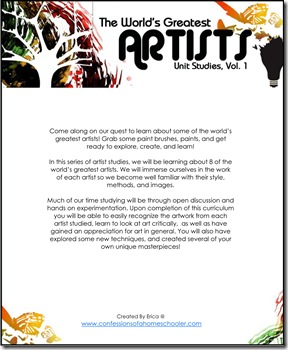 Confessions of a Homeschooler has done it again! This lady is a class act rockstar. As you may remember, I posted that we are going to be learning about some artists. Well, she just made available her new World's Greatest Artists Unit Study. If you haven't checked out the MANY wonderful resources she has made for us, please do so!
I was thinking about this yesterday as I was laminating and cutting out things for Spencer. Sometimes I feel like I should be creative enough to do stuff like that on my own. I look at the cool things that other moms make for their family and I just don't measure up. The best I can hope is to come up with some sort of clever twist on the same idea using their inspiration. I've even had the thought "You know, I really should right my own US History Book".
But then I had an epiphany. I should have had it long ago, but it happened yesterday. I shouldn't mourn that I'm not as creative or original enough to come up with these kinds of things on my own. I should be shouting from the rooftops how blessed I am that these resources exist so that my time is freed up to do things that I love!
I get to do things like read from my massive list of "to read" books, I get to try new recipes, I get to make bread for my family using freshly ground wheat (yum!) I get to make dresses for my girls and skirts for me, listen to Glenn Beck and get out of my house and into the sun every day.  And when the mood strikes, I get to write highly controversial, impassioned, opinionated posts that (unfortunately) upset some of the people that read my blog! Yes, I do enjoy making bread and writing those posts believe it or not.
And a lot of these things are free or extremely inexpensive!
So to Erica and all of the other homeschooling moms that allow us to reap the benefits of your mind, thank you!  Thank you for all of your hard work!  Your work truly blesses my family.