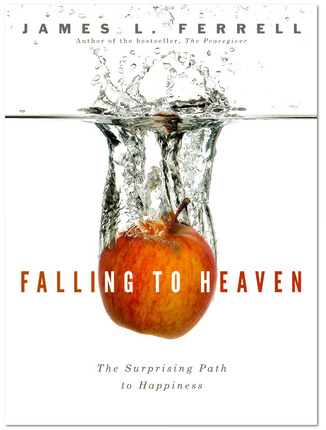 Several months ago I had the opportunity to read Falling to Heaven by James L. Ferrell.  James Ferrell is the brilliant mind behind The Holy Secret and The Peacegiver, both of which I love.
Falling to Heaven is amazing.  There really is no other way to describe it.  It's one of those life changing books with layers of lessons that you will discover every time you read it.
Ferrell explains the premise far better than I can in this short video:

You have to follow the Lord and only then will true joy find it's way to you.  You can't force it.  Only through service and humble submission to the Lord's will will you ever find lasting happiness.
I can't tell you how much I dislike the "self-help" formula for women these days, and I have mentioned several times that for many of the world's women, even more "me time" is not necessarily the answer to why you are discontent with your life.  Only by fully embracing your role as a woman, wife and/or mother will you feel relief.  I've gotten a lot of flack for that kind of comment because people think that I am somehow saying that we women shouldn't ever do anything for ourselves or that we should never take a break.  I'm not saying that at all (just take a look around and you can see that I have plenty of hobbies and other fun things that are just for me).
"Take my yoke upon you… and ye shall find rest unto your souls.  For my yoke is easy and my burden is light" is a scripture that seems a little overwhelming, no?  Tired? Overwhelmed?  Here, have some more, that will fix everything!  But it's true.  James Ferrell said:
"It is a weight that lifts, a burden that is light, a heaviness that brings peace to the soul. Which, of course sounds absurd. So the world, with all good intentions, looks for happiness in other ways – embarking on paths that seem, by their very natures, more happy and promising. As I have walked my own share of such paths, I have learned that what they offer is a mirage – a kind of cotton candy to the soul that leaves us emptier or else more puffed up than before."
I can testify to the truth of this.  The more I focus on me, myself and I and the more I ignore my responsibilities as a woman, wife and mother the more angry and discontented I become.  I've actually come up with a test to know if I'm being selfish or if I really need a break.  It's surprisingly simple too.  If I go out on my own (to TOFW for example), go take a bath or do anything else that is fun and just for me, and I come back and feel refreshed and have more patience, then I needed the break.  If I come back and immediately get frustrated and angry when things aren't perfect, then I was being selfish and I have to re-prioritize my life again.  Simple enough.
The lesson that I think hit me the most in this book, however is the lesson on pride.  Not the pride that everyone thinks of, but the kind of pride that most people wouldn't even consider as falling under the "pride" category.
Ferrell said:
" [Alma] is not saying that there is value in feeling down by itself.  In fact, by itself, feeling down is a downer.  There is a way of feeling bad (perhaps the most common way, in fact) that is just a way of feeling bad about oneself… 'We can distinguish more clearly,' Elder Neal A. Maxwell taught, 'between divine discontent and the devil's dissonance, between dissatisfaction with self and disdain for self.  We need the first and must shun the second, remembering that when conscience calls to us… it is not solely to scold but also to beckon"
Feeling bad about yourself in a way that that keeps you from looking to Christ and the loving power of the Atonement, is in itself a form of pride.
There is nothing wrong about feeling like you could do better, or thinking that you could/should try harder.  But the "woe is me, I'm so rotten" attitude that so many of us feel these days is not humility, it is pride.  The way I interpret it is that unless your discontent with self is also a call to look to Jesus and be more like Him, then you are falling into Satan's trap of selfishness and thinking and feeling bad about yourself and that will get you no where.
This is where the life "changing part" comes into play.  When I discovered this truth it was like a switch went on in my soul!  I have had several times since then that I have been upset, cried and been overwhelmed.  There have been trials that we have had as a family that I have cried for days over but I can honestly say that I haven't felt sorry for myself.  I'm not going to tell you that you won't have troubles but it is so much better to take the Lord by the hand and have him lift you out of your burdens than by trying to dig yourself out of that hole by yourself.
Falling to Heaven  is a book I will definitely be reading again and I can't help but wonder what more lessons I'll be able to learn when I do.
{Disclaimer: I received this book for my family for free.  I received no other compensation for this review and all opinions are my own.}