THIS GIVEAWAY HAS CLOSED!
Don't you just love surprises?  I love them, especially when they come in the form of a book.  And THIS book, just so happened to be on our Christmas list.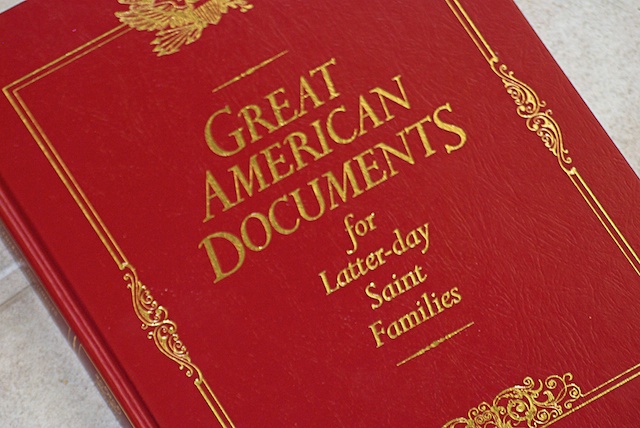 Deseret Book sent me Great American Documents for Latter-Day Saint Families to review and I was all too happy to oblige.
This is the fifth book in a series that includes The Book of Mormon, Old Testament, New Testament and Church History.  I had the opportunity to look through my sister's copy of The Book of Mormon last Christmas and was surprised at how exciting it was!  I was sorely tempted to smuggle it home with me, but that hardly would have been in following with the Spirit of the book in question.
The format of these books is just amazing.  Great American Documents includes documents like  The Declaration of Independence, The Constitution, Washington's Farewell Address, The Emancipation Proclamation, Abraham Lincoln's Second Inaugural Address, "I Have a Dream" speech by Martin Luther King,  Reagan's speech honoring the men of World War II "The Boys of Pointe du Hoc" and many many more.  But it's just so much more than transcripts and text from those important documents.
Let me show you what I loved so much.
Beautiful, historical paintings and art along with an introduction and history of the document in question so as to help you put it in context.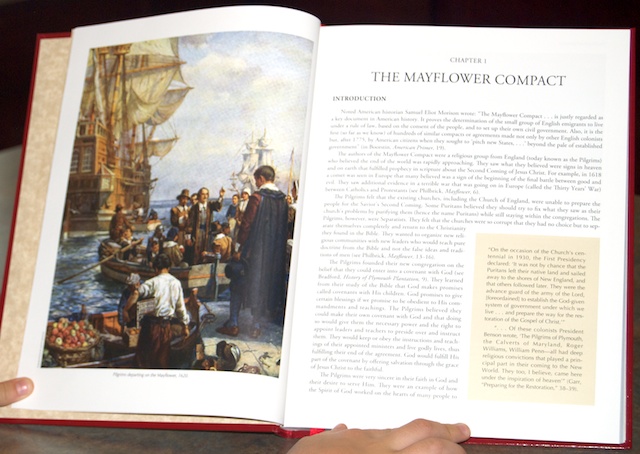 Quotes and revelation from our ancient and modern day prophets that pertain to the chapter.  Other historically important information, maps and biographical info on people involved (you should see the chapter on the Declaration of Independence, our homeschool could spend a month on that chapter alone!)  And there is also a pretty ribbon bookmark.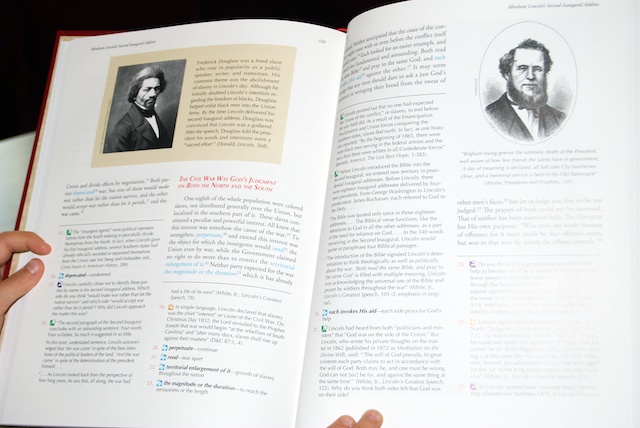 But all of that is just a bonus.  Icing on the cake.  THIS is the meat and my favorite part of this book.  Each document or speech in full with four different categories of footnotes: Definitions for the difficult (or outdated) words and phrases, historical insight and a deeper explanation of certain passages, links to the scriptures and prophesy concerning certain passages and suggestions of topics to ponder.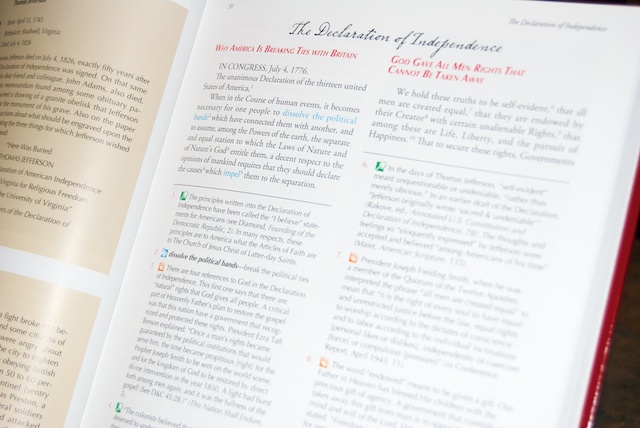 We pulled this out for FHE last week while our kiddos colored on pumpkins with magic markers.  After a lively discussion on The Mayflower Compact (along with several "I didn't know that's" and "Cool's!" and "That's interesting's") this book was officially given the seal of approval when my eight-year-old daughter asked "Will you PLEASE read another chapter?"
It's wonderful as a homeschooling or Family Home Evening tool or even just to get out on Independence Day or Memorial Day to help us remember who we are as a nation, who we came from and where we are destined to go.  This book is a treasure and we plan on adding the rest of the series to our home library.
Want one?  Well it just so happens that Deseret Book has offered to send a copy to one of my readers!  Are you so excited?
Just leave a comment telling me why this book would be at home in your home!
Optional additional entries by:
"Follow Me" and tell me you did so in the comments (go ahead and leave a comment if you already follow me too)
Spread the word!  Blog or Facebook about this giveaway (I don't tweet, but I guess you could do that too) and tell me you did so in the comments
This giveaway will end midnight on October 31 (spooky) and the winner will be announced Nov. 1.
Don't want to wait?  Or not feelin' lucky?  Get it now from
Deseret Book
!
{Disclaimer: I received this book for my family for free.  I received no other compensation for this review and all opinions are my own.}