I have something exciting for you today!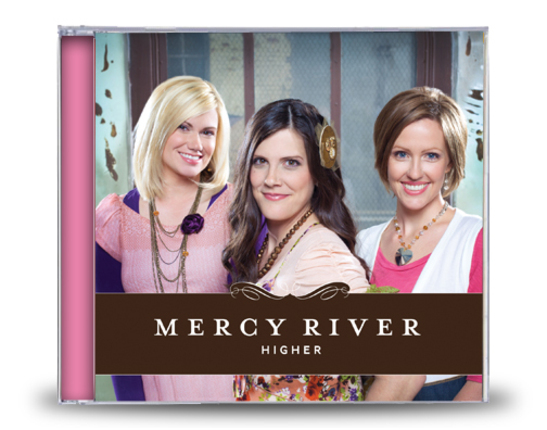 Mercy River is doing a tour around the blogosphere and today they are playing here!  They sent me their new CD and I must say, it is wonderful!  Do you ever hear a song that touches your heart so much that it brings you to tears?  Their new album Higher is packed full of song after song that made me feel like I wasn't alone in my fears and insecurities.  I immediately felt a kinship to them, they brought so many of my own feelings to light.
Thank you Mercy River for today's post!


Ignite the Fire:
How Modern Mascara-Wearing Moms Can Make a Difference 
By Whitney Permann of Mercy River
Dishwashers. GPS Navigation Systems. Mascara. Never has there been a "better" time to be a woman on the earth. Not only do we have so many modern conveniences that our generations of grandmothers didn't–we also have many rights that they could only dream of.
For example, we have the right to vote. The right to become educated. And the right to speak up and be heard in our communities. Many brave women in our country dedicated their lives in an effort to improve OUR lives. And why? Because they knew what WE know: women are smart, capable–and when they're on fire–really really powerful.
So now that we're here, enjoying those rights and privileges…what are we doing with them? I'm sure I'm not the only one who has realized that I SHOULD be doing something…but not sure HOW I should be doing whatever it is I should be doing.
All that changed for me when I met Jill Manning. Jill is a therapist who spoke at a Time Out for Women event that I sang at in 2010. She was presenting on how women need to be standing up in the fight against pornography. And these words in particular changed my life:
"Women are movers and shakers. Look what they've done with breast cancer, autism and drunk driving. Why aren't more women trying to make a difference when it comes to how pornography is affecting our faith, our communities?"
Boom. A fire ignited in my heart, and I decided that THIS is what I wanted to be doing. I wanted to be one of the women taking a stand against pornography–especially since 4 of my 5 children are boys. Instead of just worrying about it, I wanted to DO something.
After a little digging, I learned of a "White Ribbon Week" (Internet Safety Week) that some public schools were doing in Utah. No school in my school district had ever done it, so I decided it was time to start.
I approached our PTA president and principal and got them on board. And with the help of three other passionate moms, we organized an incredible week full of learning and discussion with the teachers, students, and parents in our community.
The students learned about cyber bullying, online predators, what to DO when they see something inappropriate on the computer, how to keep their personal information safe, and how to encourage their friends to make smarter choices on the internet. There were posters, prizes, essays, assemblies, and best of all…discussions about internet safety happening at home.
One mother said to me, "I am so glad we had this week in our school. I've always wanted to talk to my kids about these things…but didn't know how."
Orchestrating an Internet Safety Week in my kids' school was a small thing to do in the overwhelming fight against pornography. But it was effective. Some families installed filters that weren't previously there. Some families had their first ever "Internet Safety" FHE. And some families simply became aware of a danger they hadn't considered. If the week helped protect only a few families, only a few children, it was worth it. And hopefully, next year it will be even better.
So what gets YOUR fire going? Community service? Music? Education? Reading? Nutrition? The environment? Pick something you can get passionate about and use your talents to make a difference. Don't know how? Ask the Lord. He will guide you. Not all of us need to picket in front of the White House or testify before Congress or create non-profit organizations. But we can each do SOMEthing.
As mothers, let's show our sons and daughters that THIS is what makes women truly beautiful–our power to influence. Let's show by our examples that we are more concerned with our homes and communities than the latest fashions, TV shows, or neighborhood gossip. Let's leave a legacy of positive action and change for the next generation…and thank our lucky stars we can wear mascara while we do it.



But the greatness doesn't stop there.  Mercy River is giving away their new CD to one of you lucky ladies 🙂  To enter all you have to do is answer this question (mandatory first entry):
What gets your fire going?
For additional entries you can:
Follow my blog
Spread the word via Facebook or blogpost (make sure you link back)
Make sure you leave a comment for each entry.  I will announce the winner Monday, March 19th 🙂
Good luck!