The last month we have been reviewing a homeschool composer curriculum.  I have really been enjoying it so I thought I would share how we study music using literature.
Lest you think that our educational method has created an environment where my children must have their noses stuck in books all the live long day, I should clarify that we use literature as a jumping off point.  From there we will take whatever path our whims and curiosity take us.
Among other things, we have been really focusing on composers and music history.  So far we have studied Bach, Beethoven, Tchaikovsky, Mozart, Brahms, and Gershwin.  My children are still pretty young (the oldest is 10) so the biographies by Mike Venezia
 are the perfect resource.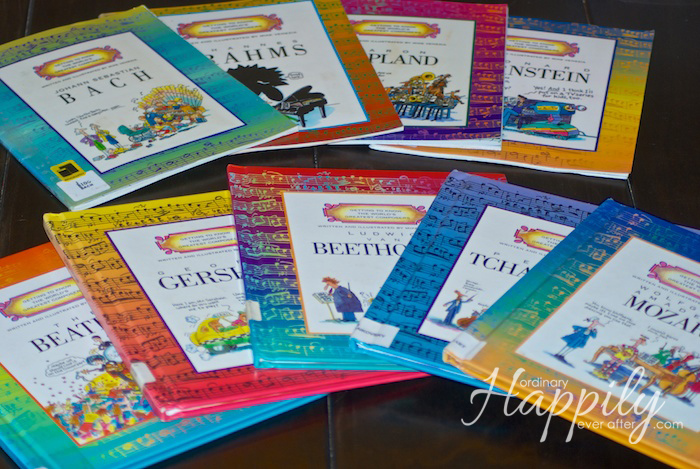 Mike Venezia has written biography series about composers, United States presidents, inventors and scientists, and artists.  His writing is engaging and easy to read.  In addition to his humorous illustrations, Mike includes pictures of works of art that are pertinent to whom the biography is about.  I have yet to read one I haven't liked.
I braved the library with my boys and came home with a backpack full of composer biographies.
The first thing we did after picking a composer and reading the biography is look up the composer's work and, as we are fans of classical music, usually buy it.  I would always try to find the album that had the greatest number of familiar pieces for the least amount of money (yes, I am a cheapskate).  I have found the Rise of the Masters
 series from amazon.com to be the best.  The quality of the music is very good and you can't beat the price (currently $1.99 for 100 songs).  The album doesn't always have every single song that we want to buy, but it will usually have most.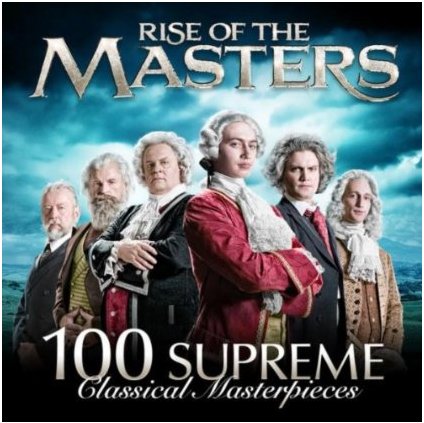 We then spend the next few hours listening (and in the case of my daughters, dancing) to the songs and talking about how they make us feel (more often than not "fairies" and "running in the woods" is involved).
From there we let the music guide us.  When we studied Tchaikovsky, we looked up scenes from his ballets on YouTube.  The girls just loved watching scenes from The Nutcracker and were delighted when I mentioned that our local theatre would likely perform it this Christmas.  We also listened to his 1812 Overture and listened for the cannons that we learned he used for the finale.
When we studied Mozart we rented the Metropolitan Opera's performance of The Magic Flute.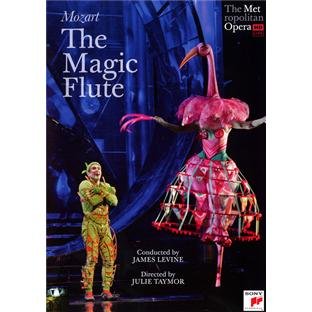 We also listened to Erika Mikolsa sing "Der Hölle Rache" about 20 times, each of us trying to hit that note.  Lucy's 10 year old voice managed it easily, my 32 year old voice quickly went hoarse.
As we listen to the music we add our favorites to our "favorite classical" playlist.  When cleaning time comes around I blast it as we move from room to room tidying up.  As I am clearing off the bookshelves I get to listen to my daughter's debate whether the song they just heard was Flight of the Bumblebee or the 5th Symphony (they did agree that it was Beethoven).  Jack practices his "p" sound by trying to sing "Papagena! Papagena!"
Spencer does not get too excited about composer study but I have noticed his increasing interest in the piano.  He likes to play "love songs" for me so even though he might not be interested in other people's music at the moment, it is definitely rubbing off on him.  He also likes talking about how the music makes him feel… but only for about 20 seconds worth of a song (and he couldn't have cared less about The Magic Flute).
Our experience with music is a perfect example of how we use literature as the foundation of our learning.  On top of that foundation we use other classic works, oral narration and in depth discussion.  I can honestly say that our study of composers so far has been some of the most fun we have ever had in our school days.  I can't wait to use this approach with other subjects as well.
By the way, my new favorite song is Rhapsody in Blue.