Make sure you get a chance to read up on the entire construction process here:
I was looking at Pinterest a few weeks ago and I came across this pin right here:


You know how sometimes you don't know how much you need something until you see it?  I absolutely fell in LOVE with this table!
Now don't get me wrong.  I have a perfectly good table.  It fits us perfectly and with the extra leaves it will fit even more.  It was the table that came with Matt's childhood home.  His parents were good enough to give it to us when they bought a new one several years ago.  I refinished it, painted the base and it has served us well.
But the heart wants what the heart wants.  My heart wants this table.  So when I see it costs less than $100 to make, I think surely it can't cost too much to buy.  I'll just save up for a few months and maybe I'll have a nice birthday present.
Um…
I was wrong.
Just take a gander at the price tag of similar tables on the market.
$1998 from Anthropologie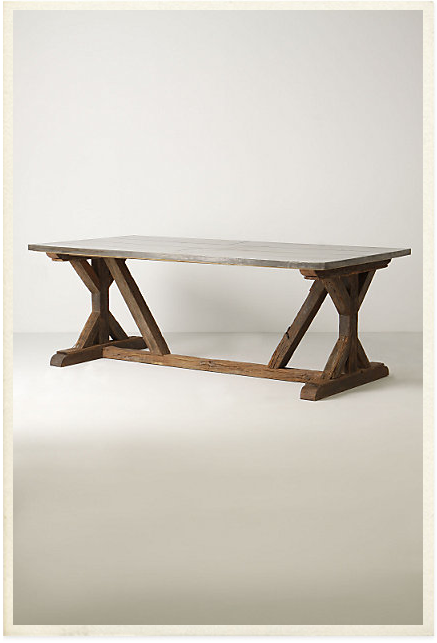 Or this one for around the same price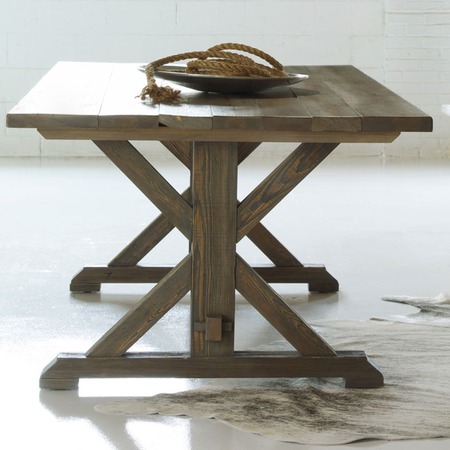 Quite the racket no? That is a pretty little mark up on this table.  Especially considering chances are we would have to put the thing together ourselves.
Fortunately I am, in my husband's words, "Dangerously self-confident".  Over the last few years I have taken on little tiny projects (sewing skirts, fixing a broken shelf and other stuff I am not patient enough to wait for Matt to so it for me) and line upon line, I find that there is actually very little that I can't do if I am just brave enough to try.
So I wander over to the site where the tutorial is and eventually I find myself of Ana-White.com where I find a tiny little stay at home mom who loves to build her own furniture and share the plans for FREE!  Suddenly the impossible becomes not just possible, but inevitable.
The next day I made Matt teach me how to use his power tools (I am fortunate that he already had a LOT of tools, so I didn't have to go out and break the bank by purchasing them).  For my first project he helped me make these little cubbies for my school cabinet.  He said I made most of it, I would say it was about half and half and his watchful eye was with me every step of the way.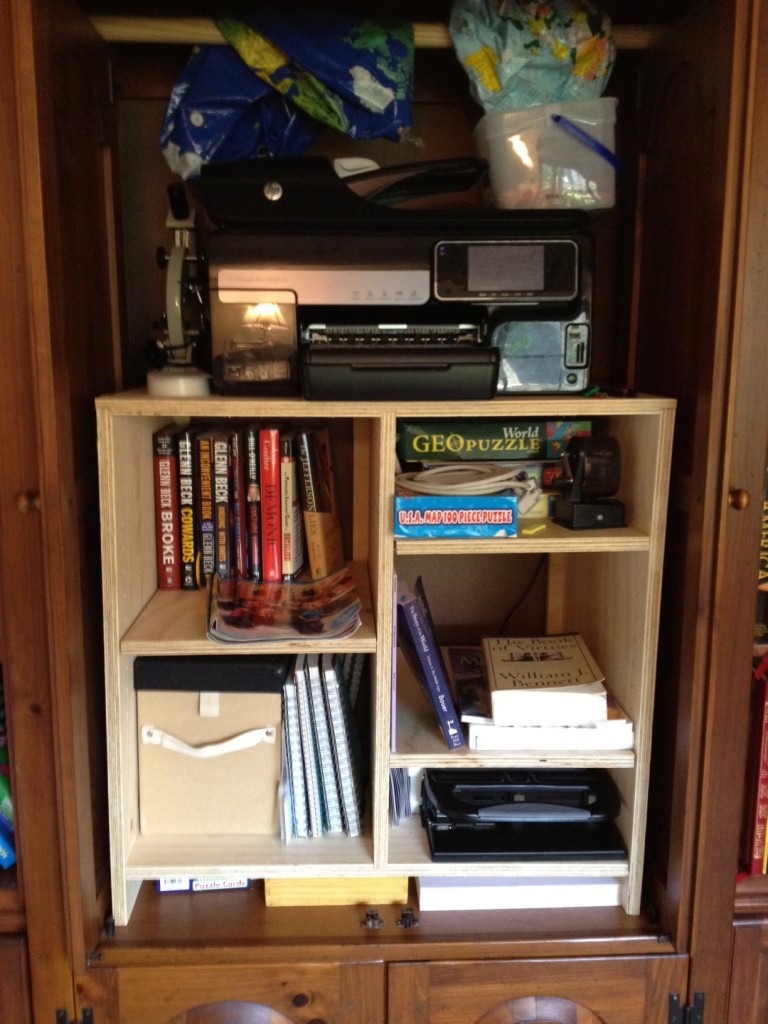 I especially  love how the printer can sit right up there so that little hands can't get to it.
With this project behind me he turned me loose to make my table 🙂
Now the plans call for using 2×10 fine boards for the top, which are generally really inexpensive, but the wood itself is a little more rustic (plenty of knots, that kind of thing).  I was fine with that, I wanted a rustic look but Home Depot had some really nice looking pine boards without any knots but they were 1 x 10.  Matt and I decided to puzzle together the extra inch under those beautiful boards with plywood and trim.  It is going to take a lot longer, it will be a lot harder, but the top will end up being very pretty in the end (that is the idea anyway.)  So to sum up, I'm not following the plans for the table top, but I am for everything else.
I wanted the top to look like planks instead of one big sheet of wood so the first thing I did was sand the edges on the top of each. Then I attached them with glue and biscuits (Matt got a biscuit joiner more than six years ago and hasn't had a chance to use it, so I got to christen it.)  I had four planks for the top, so I joined two together, than the other two.  Then we were stuck because we didn't have any clamps big enough for the 40 inch span of the table top.  Matt had the day off yesterday so part of our Independence Day celebrations included a trip to Home Depot.  While there we celebrated my Independence from Pottery Barn envy since from now on I will be perfectly capable of building anything I want on my own 🙂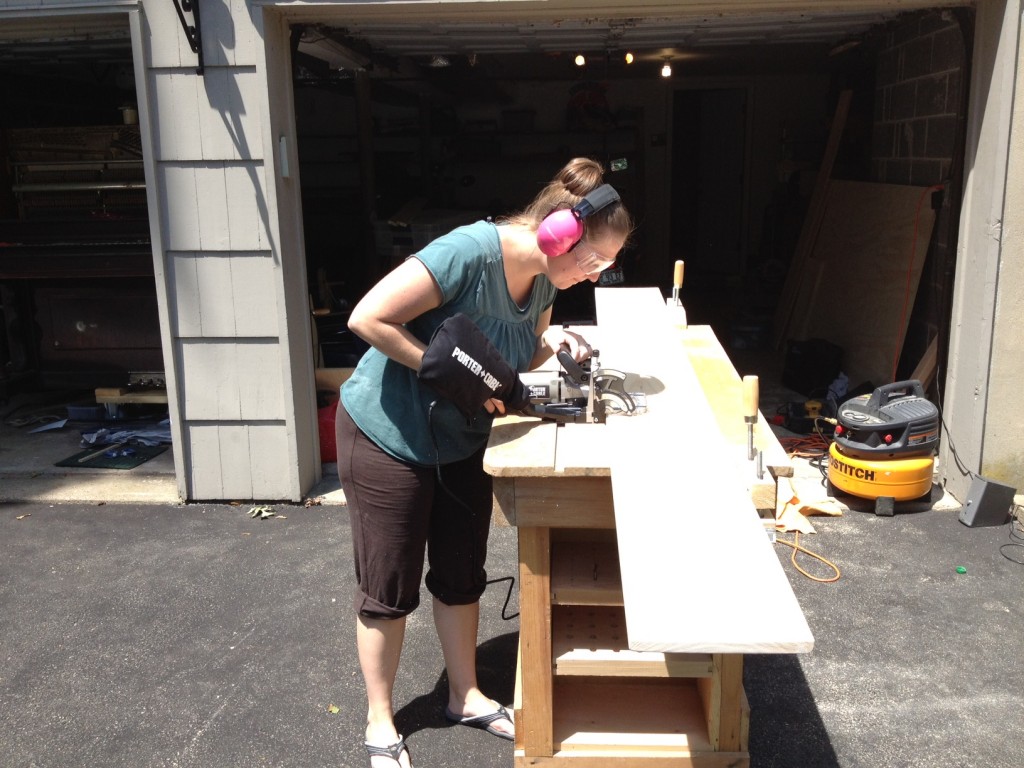 Last night I was able to get all four of them together.  They were pretty heavy and I'm glad Matt was there to help me lift them.  It was so weird to be going to Home Depot for my projects instead of Matt's.  Weird, but neat.
Here is my table top all clamped and the glue drying.  We had to keep the weights on because the boards wanted to turn into a V instead of staying flat.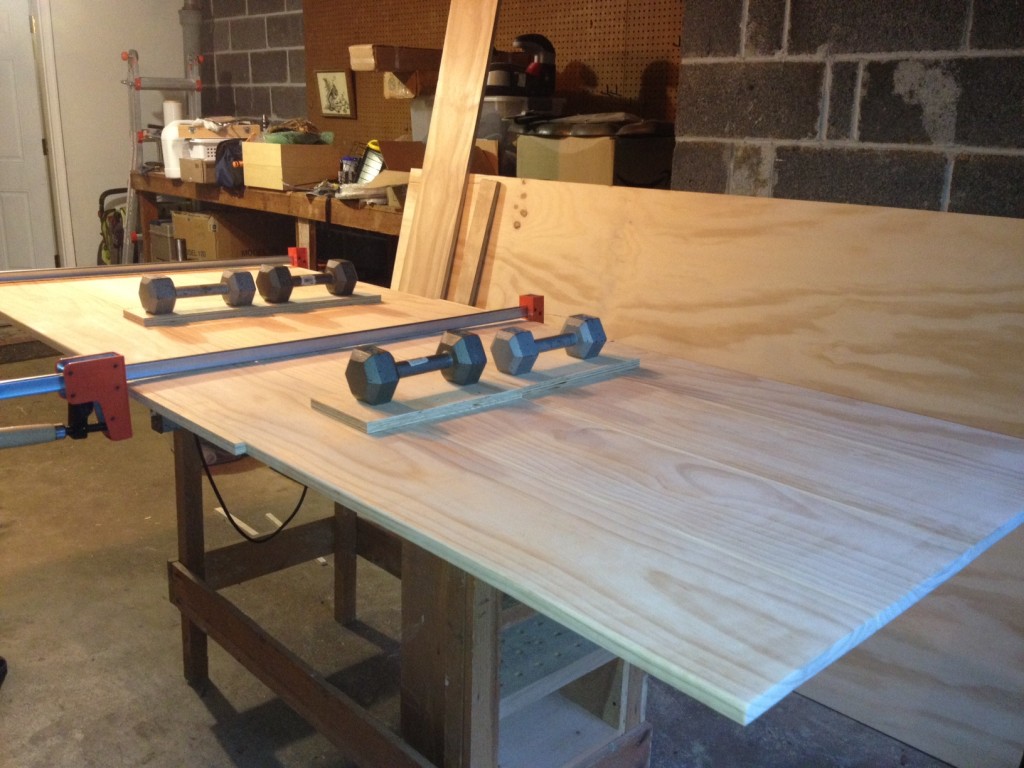 As a side note, Matt and I have officially gotten to the point in our marriage where a present for one is the same as a present for self.  Last night he got me this miter saw stand.  It was something he had wanted for a while, but thought it was too frivolous Apparently it's not too frivolous for his pregnant and waddling wife who has been using the miter saw on a regular basis.  He bought this stand for me and hooked all up last night.  Now instead of hauling the saw out of the garage and kneeling on the driveway to make my cuts all I have to do is wheel it out, unlock it to put it upright (easy and light) and it supports the wood on either side of the saw as well so I don't have to jury rig something to do that.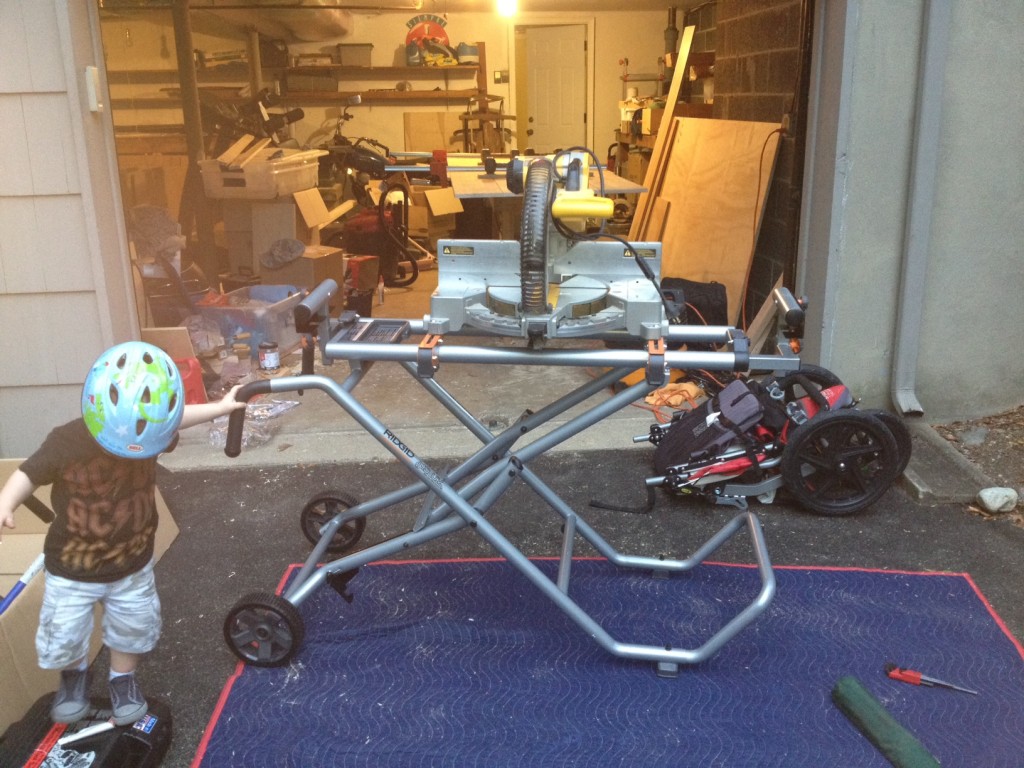 After lunch is nap time for Jack, bike and scooter time for the other kids, play time for me,