Make sure you get a chance to read up on the entire construction process here:
I wish the pictures could do it justice!
It's been so long since I've been able to work on it.  The table was about 85% done when the rains came down and refused to stop.  Any day we had sufficient sunshine we were busy running errands or baking bread or having school and all those other things that come with being a mom.  There were only so many hours in the day and the table just didn't make the cut.
Until yesterday.  The sky parted just long enough for Lucy to help me bring the base inside.  I figured I could put the poly on it inside.  Fumes and all.  I actually ended up using the spray can of polycrilic that I had on hand because I didn't want to wait any longer.  I figured that if the finish got milky I could just sand it and start again with a different finish.
I also decided after re-injuring my wrist for the third time (I tweaked it during the move and it hasn't been normal since) that one coat of polycrylic followed by three coats of wax was plenty (applying the wax kills my wrist).
This time it did not get milky!  I sprayed three coats on the base of the table.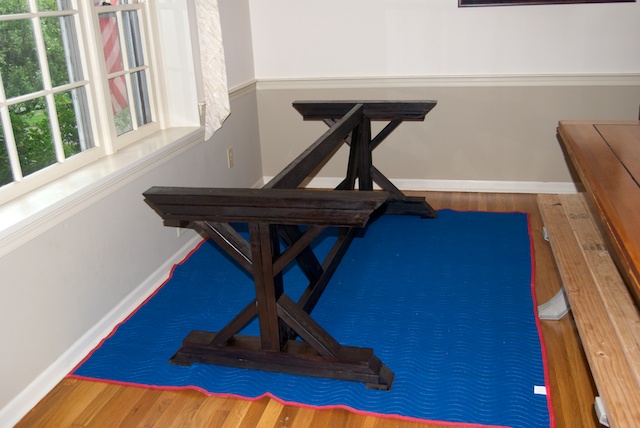 When Matt got home I had him help me bring the top up.  Now you may be wondering how I managed to attach the top to the base.  Well I would be happy to tell you.  First we put the kids to bed.
We placed the table top face down on my other table, then Matt helped me put the base on top of that.  So basically my table was upside down.  He went to study and I got out my measuring tape and centered the base as well as I could.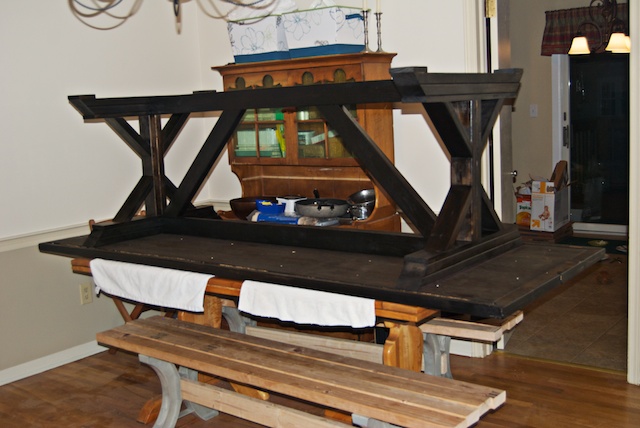 Then do you remember this mistake I made?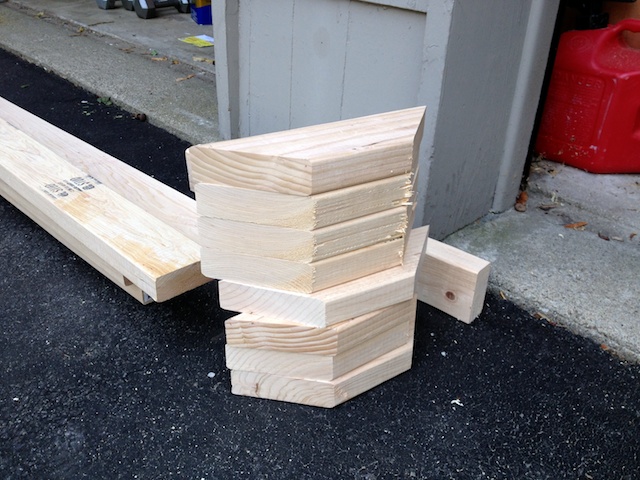 Waste not want not.  I grabbed four of these bad boys, drilled some pocket holes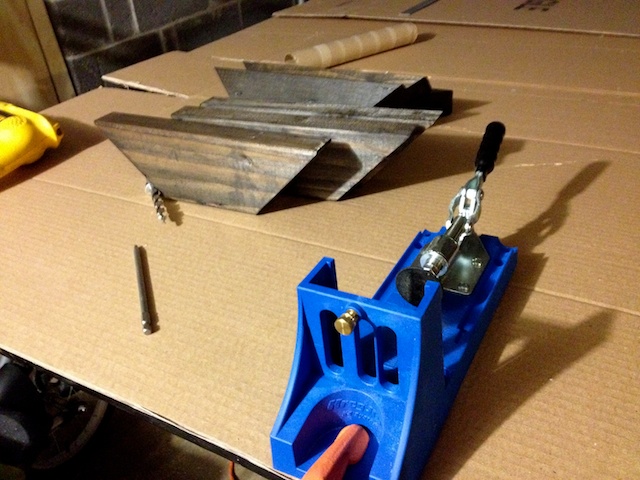 and stained them (I also made holes in the wrong direction for half of them and plugged them up).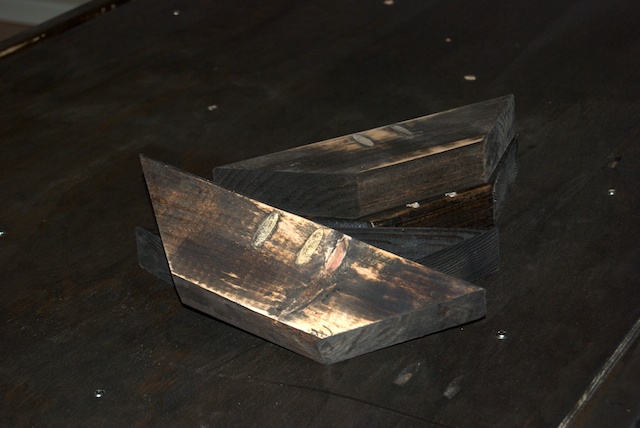 Then I attached them to the top of the table so that they were flanking (but not screwed to) the beam on the base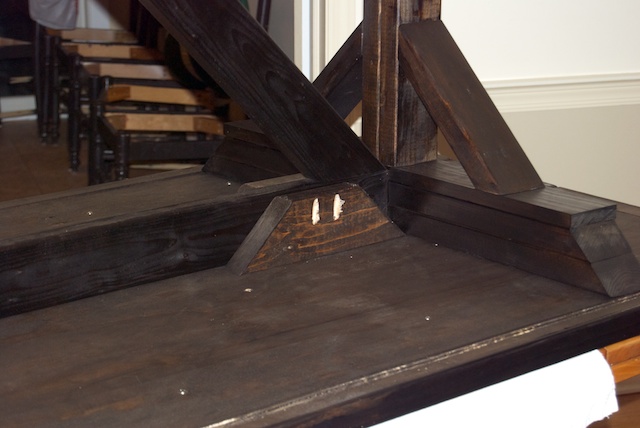 Then Matt helped me take the base off and set it upright on the floor.  Then we flipped the top over and the brackets I had screwed to the table top slid right into place, straddling the beam.  Perfect fit, perfectly centered, sturdy as can be!  If I wanted some extra security I could screw the brackets into the beam as well, but after testing it out, I don't think it is necessary.  That top isn't going anywhere unless it's lifted (no amount of pushing and shoving or leaning on will make it budge).
Here are my two tables, side by side.  The new one is about an inch narrower than the old but also two feet longer!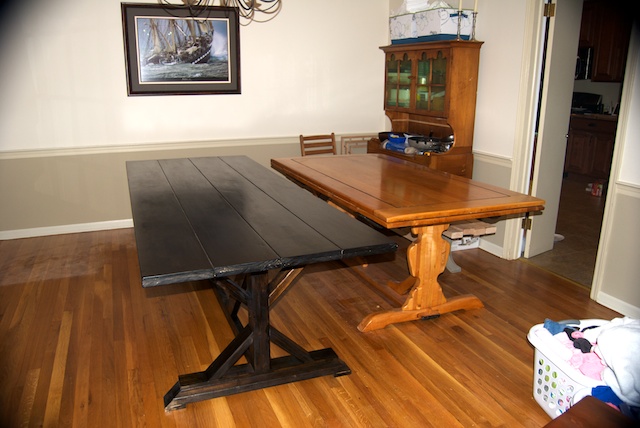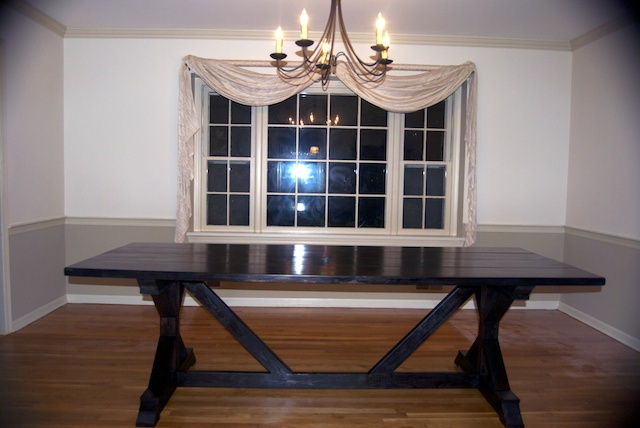 Better pictures in the daylight…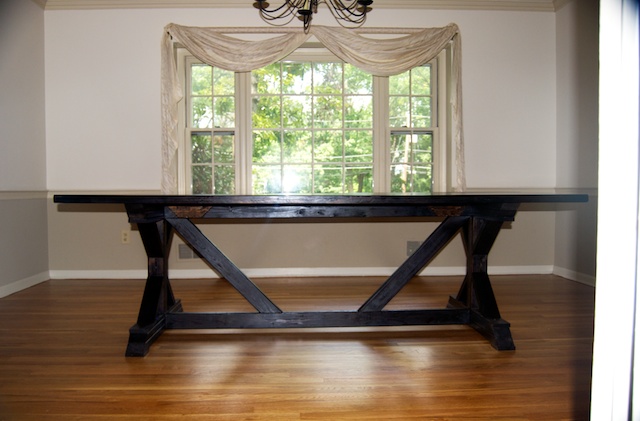 Rustic yet fancy!  Matt wasn't sold when I showed him the plans but he supported me as always and he really likes it in the flesh.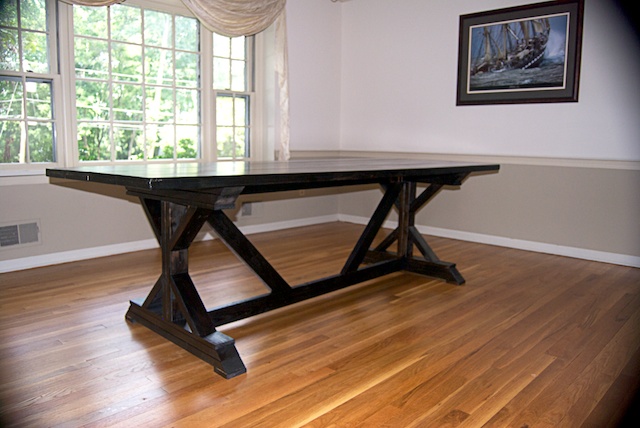 I can't stop looking at it!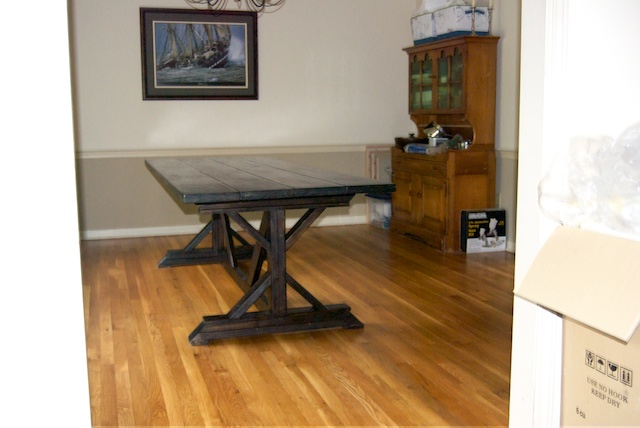 I made that all by myself!  I even had to figure out a few things (like how to attach the top).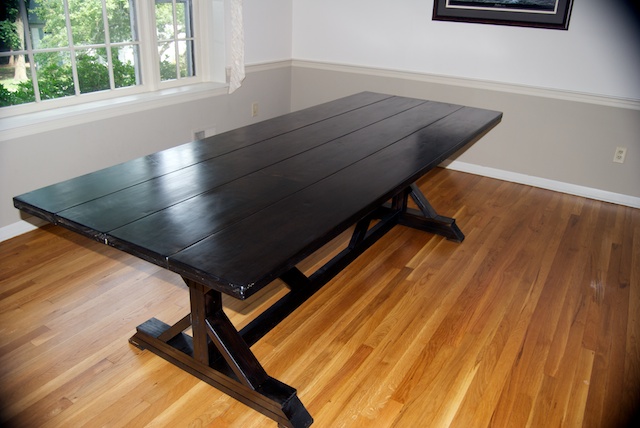 Now I just need to refinish those chairs I got on craigslist!
I'm showing this off at:
Six Sister's Stuff
The Dedicated House
Miss Mustard Seed
I Heart Naptime