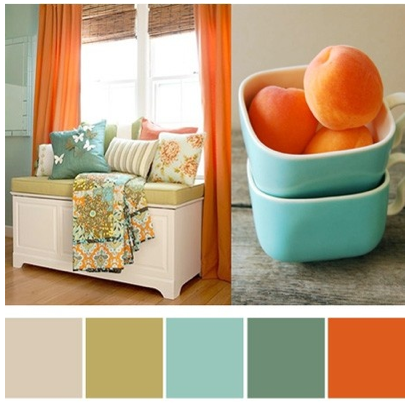 I'm nesting.
Two months into this new house and I am ripe with ideas on how to make it home!  Fortunately our landlords don't mind when we do things like paint, replace fixtures, etc.  As long as we aren't tearing down walls we're ok 😉
This is a very good thing for us.  Matt and I like to make little improvements here and there, and having landlords who are ok with that will make the next six years much more appealing as far as I'm concerned (since I have no intention of moving before he is done with his residency unless we absolutely have to).  Good for us because we get to pretend like we own it while we live here, good for them because we will increase the perceived value of the home.
This is a great house!  Really solid and good down to the core.  There are just a few cosmetic things that I would to touch up and even a few functional things that need to be addressed.  For example, a lot of the power outlet covers don't match the color of the trim (white trim, beige outlets).  Clearly that is cosmetic.  There are also a few outlets that won't hold the plug.  That is functional.  Still cheap to fix and we are happy to do it (since we want to change the color anyway).
As I said, I'm nesting so my mind is just screaming things that need to be done before the baby is born.  I thought I would keep a list to track my progress.  I may even post about some of them 🙂  I am under no illusions that this will all be done in the next three months, I'm honestly just hoping to have it done within the next six years!  I have always loved to mix it up now and then and now that I'm braver I can do more than just move furniture around!
In no particular order:
Dining Room:
Build new dining room table CHECK!
Refinish chairs CHECK!
Refinish hutch
Refinish desk
Paint trim whiter
Paint walls a "cooler" shade
Find some color coordinating platters and plates to hang on the wall
Make striped drop cloth drapes
Replace outlets/light switches
I love this color scheme for the dining room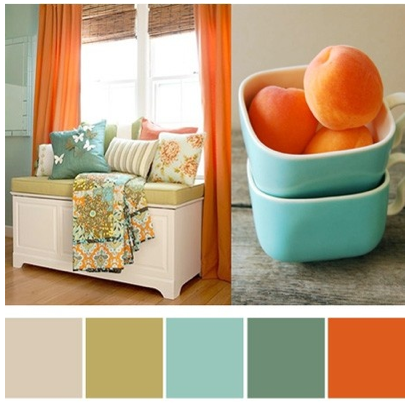 I'm also tempted to get a cheapo rug from Ikea and paint it to match this.  The colors would be perfect and if I paint it and give it a good protective coat of something it should be easy enough to clean up!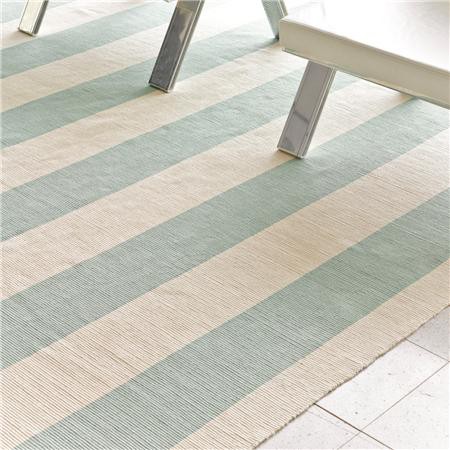 Girl's Room
Make quilts for girls by Christmas.  I have had the squares cut out since last Christmas, but I really want to get them finished.
Paint walls (maybe one striped wall?)  I need a color scheme that works well with black and red (that is the color of their quilts and I'm not changing now since I spent all of that time cutting them out!)  Maybe aqua and grey too?
Make matching headboards.  They like this kind, I can totally do that!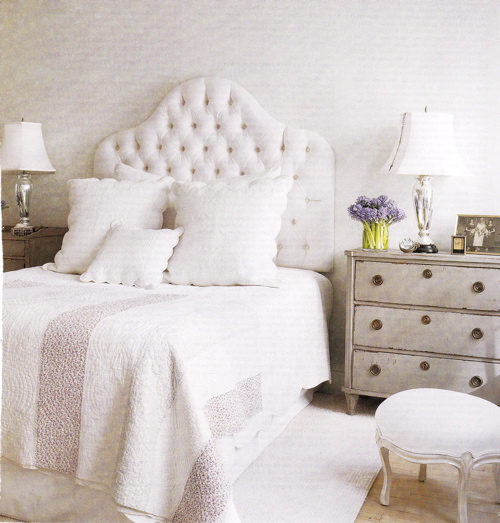 Build a bookcase.  I like this kind of finish on it.  Isn't it beautiful!  Lucy and Emma will love a place to put all of their books!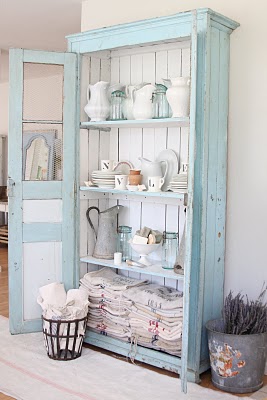 Make or buy shades for windows.
Refinish or build new dressers or build a closet/dresser system for their closet.  They will be moving into the smallest of the bedrooms once our baby boy (have I told you it's a boy?) moves in with his brothers.  Space will be at a premium.
Replace outlets/light switches
Replace door knobs
Boy's Room
Buy a new mattress for Jack (he is currently in a crib and will need to move into a big boy bed in the next year or so.  We will be using the bunk beds (currently being used by the girls and not stacked) for the boys since they are more of a boy style and it will be much easier to just keep them in the room they are in once we move the girls out.
POSSIBLY build a crib for the baby.  I don't know if I will do this or not, but we've been using the same crib for 10 years.  It's cost us $10 at DI when we lived in Seattle.  It's seen better days and I would love something a little lower to the ground and possibly able to convert into a twin headboard later on.  But I don't know that I want to go to the effort.  We'll see 🙂
Paint walls – grey with darker grey horizontal or chevron stripes on at least one wall
Eventually make coordinating quilts
Make or buy shades for windows
Replace outlets/light switches
Replace door knobs
Build bookcase
Build toy box (the one we have is falling apart)
Build 3 matching dressers – This is a must.  The other dressers we have are falling apart and are not child-friendly and I can't possibly fit another child's clothes into them!  If I decide against building dressers for the girls, the girls will use the one's we are currently using for the boys and the boys will get new, sturdy ones like this (sans the TV on top)  They will even have a spot for their treasures on the bottom!  Maybe I won't need a toy box after all.  PS, you must visit Shanty 2 Chic!  It's full of DIY inspiration!  All of the furniture I intend to build for the boys is inspired by them!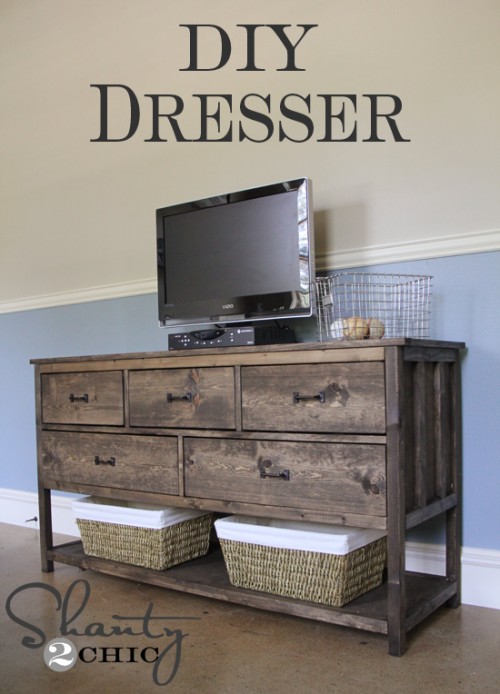 Kitchen
Build kitchen island.  That big empty space under the chandelier needs something to fill it so Matt can stop hitting his head and I need more cupboard space.  Win-win!  I want to paint it to match the orange/peach color from the dining room.  Still matches the dining room but also the warm colors of the kitchen.
Replace outlets/light switches
Nothing else, my kitchen is fabulous!
Downstairs Bathroom
Paint the walls the same color as school room, kind of a sandy color.  It's really pretty and reminds me of the beach.
Hang something on the wall
Entry Way
Bring up piano from garage
Replace light fixture
Figure out how to brighten it up.  If I have to paint it I will, but I would rather not (I would have to paint the trim white and I don't like painting trim.
Get lighter colored hallway rug to hide/brighten the green tiled floor
Put privacy stuff on the windows around the door (Megan where did you get that stuff and what is it called?)
Living Room
Repaint similar color in eggshell or satin finish.  It's currently painted in flat and it's a nightmare to clean!
Replace outlets/light switches
Get newer family pictures taken to put on the wall over the couch
Build bench/storage for under the windows.  Similar to this (click to go to her site)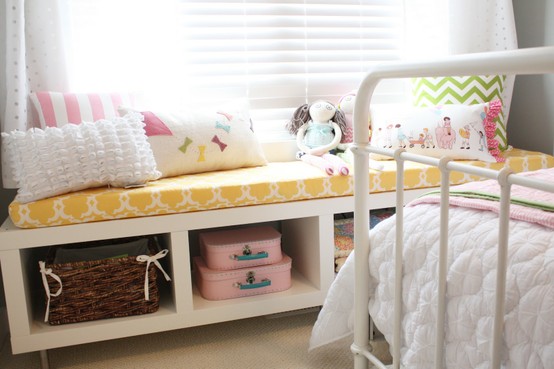 Replace outlets/light switches
I would love to find some old and beat up armchairs on craigslist or at a thrift store that I can reupholster (tufted of course).
Someday I am going to try my hand at building us a new couch!  How awesome would that be?
I'm toying with the idea of building a coffee table.  I can't decide if I want a wooden one or a tufted ottoman though.  Pros and cons to both.
I don't know how I could do it since we have our bookcases flanking our fireplace right now, but if I could hide the TV (which is above the fireplace) behind some sliding barn doors, that would be my dream!
Get better fireplace gate
School Room
Replace outlets/light switches
Build another bookcase (yes, we need that many)
Maybe build a long and narrow table to put up against the wall where kids can have a flat surface to work on.  They like their clipboards though, so we'll see.
Upstairs Hallway
Put a chair and a bookcase in the great big open area at the top of the stairs or an armoire to hold linens or toys.
Replace light fixture
Organize linen closet
Get large hallway throw rugs to brighten up/cover the carpet that is already up there
Hang pictures
Replace door knobs
Guest Room/Craft Room
Paint
Organize
Replace door knobs
Replace outlets/light switches
Put a lamp in there
Build night stand for the lamp to sit on
Upstairs Bathroom
Take down wallpaper
Paint Walls
Possibly paint tiles
Replace vanity
Reglaze tub?  Obviously since this isn't our house we would get permission and do this as inexpensively as possible.  But the pink bathroom tub/tile and pink geometric wallpaper on the ceiling has GOT to go!  It seems as if this is the one room the landlords didn't redo after they bought the place.
Replace outlets/light switches
Master Bedrom
Paint
Build dresser for myself.  I haven't had a dresser since we got married!
Replace outlets/light switches
Replace door knobs
Make a little reading nook with a chair
Master Bath
Paint
Replace outlets/light switches
Replace vanity light
Be creative with storage (it's a small place with not enough towel racks)
Garage
Dungeon (aka storage room in basement)
Basement Hallway
Looks like the kids and I have our work cut out for us!  This is going to be a blast!