Ah… literature based education.  It's oh, so very wonderful!  Focusing the vast majority of my teaching time on telling stories simplifies my job as a teacher as well as lighting a fire in my young children.  I am fully aware that once my children reach middle and high school age they will need more detailed instruction and more than just stories and experiments, but that time isn't for a few more years.
At a future date I will give you some more detailed information on how I use literature to teach science, but for a little sneak peak (and  TOS review) Science Naturally has a product that fits in perfectly with our family!  One Minute Mysteries: 65 More Short Mysteries You Solve With Science!
One Minute Mysteries is a book containing, well, 65 short mysteries you solve with science 😉  Short stories of real life brain teasers that children might encounter on a daily basis.  Using logic, deductive reasoning, and common sense you and your child will solve these little "mysteries".  These stories give you the perfect opportunity to teach simple, every day practicalities that they would almost certainly never learn in classroom: things like how to tell which egg is boiled and which is not, why hanging out by Old Faithful on a hot summer day isn't the best idea, and how a firefly produces light.
One Minute Mysteries is broken up in to sections based on the type of science the story deals with:
Life Sciences
Earth and Space Sciences
Physical and Chemical Sciences
General Sciences
Each section contains fifteen stories and an extra five at the end.  There are also five bonus stories to preview the book One Minute Mysteries: 65 Short Mysteries You Solve With Math!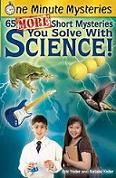 Each story begins with the introduction of a few people (children and adults both).  After a brief summary of events and context explanation (a few short paragraphs) one of the characters will ask a question.  The following page will have one of the other characters explain the solution to the question.  I found this formula very successful for keeping the kids engaged.  Listening to a story about children like them is so much more fun than listening to a list of variables.  Since you had to turn the page to discover the answer we had ample opportunity to discuss together what the solution might be before reading it (this was especially handy since there were several times that the answer didn't come to me right away so I didn't rush it).
We really enjoyed this book.  Our favorite time to read it is on nights when Matt is stuck at the hospital.  Thanks to modern technology we can usually continue our family reading time when he is on call.  Sometimes however, he is rounding on patients or doing other things that delay our nightly ritual.  On those nights when we are anxiously awaiting Daddy's phone call, I would pull out One Minute Mysteries and we would solve as many together as we could before he called.  Since they are so short, we had no problem finishing up quickly.
In addition to reading it while we waited for Dad to call, One Minute Mysteries was often on the request list during the day and I would often find Lucy reading it on her own (no doubt so she could sound smart when we read the same story together later on 🙂
In addition to One Minute Mysteries: 65 More Short Mysteries You Solve With Science! (obviously the "more" indicates this is a sequel), One Minute Mysteries: 65 Short Mysteries You Solve With Science and One Minute Mysteries: 65 Short Mysteries You Solve With Math! all follow the same theme.