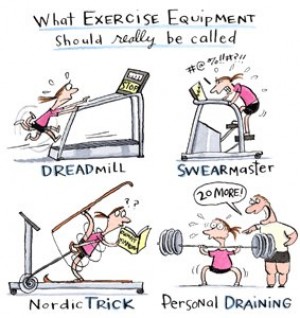 I actually started exercising daily and counting calories again shortly after Christmas, so the "I'm so sore I can't walk" phase had already passed by the time the New Year rolled around. FYI – If you work out hard one day and then take a day off and workout again and take another day off, you will extend the "I'm so sore I can't walk" phase. Exercise hard every day and the soreness will start to dissipate on day three and by the time you wake up on day four it will be almost gone.
My exercise goals are based on a conversation that my sister had with a friend (mother of five, lost a lot of weight and is looking pretty awesome these days).
Eat 1500 calories a day
Exercise twice a day, five days a week with one long run on the sixth day.
Drink as much water as I can possibly stomach every day
Matt's schedule at work has changed so now we are both waking between 5:00 and 5:30 every day. Waking up with him makes it a lot easier to do both of my workouts and in general my entire day is much smoother. I just need to make sure I head up to bed before 9 (which is fine since I'm usually ready to call it a day by 8. I'm super exciting, can't you tell?)
Here's my progress report for the week:
Sunday I ate 1112 calories including a smoothie and a banana for breakfast, goldfish crackers for lunch (scarfing them in the car on the way home from church, I didn't eat an actual lunch at home since I wasn't hungry anymore), Spaghetti with meat sauce for dinner (yummy). Oddly enough I didn't feel hungry throughout the day. It was Sunday so I didn't exercise (though I'm not opposed to taking family walks when it gets warmer).
Monday I ate 1617 calories and burned 487. In the morning I did Jillian Michaels – 30 Day Shred level 1 while watching Netflix. In the evening I ran three miles on a local trail and listened to Kingdom and Conquerers.
Tuesday I ate 1516 calories and burned 668. In the morning I did Jillian Michaels: Banish Fat, Boost Metabolism (an absolute killer, in my library it's second only to P90X Plyometrics) while watching Netflix. In the evening I ran almost three miles at the track including eight 100 meter sprints with Amy.
Wednesday I ate 1581 calories and burned 385 calories. In the morning I did Jillian Michaels – 30 Day Shred level 2 while watching the news from the night before, that evening I ran two miles at the gym while I read Seven Tipping Points (I was able to use the treadmill with a big enough lip to hold my book on it). My feet were very tight and crampy from the sprints on Tuesday.
Thursday I woke up with a sore throat. I ate 1616 calories and burned 168. Feet still feel crampy. Walked on the treadmill for 45 minutes instead of doing a video while watching the news from the night before. Didn't run in the evening. Went to bed early hoping to get rid of the sore throat.
Friday sore throat still there, feet still hurt. I ate 1688 and burned 770. In the morning I did Jillian Michaels: Banish Fat, Boost Metabolism. In the evening I ran 4 miles at the gym while listening to Kingdom and Conquerers. Feet still tight.
Saturday my sore throat was worse and now I have a stuffy nose. I ate 1498 calories and burned 663. Jack and I pushed through six miles while I listened to Kingdom and Conquerers. I ran about 6.5 miles and hour. The second three miles were faster than the first. And may I say… ouch! I ran seven miles a few weeks ago and it didn't feel nearly as bad as this did. Must be the combination of long distance, pushing a stroller and being a under the influence of an illness. I want to spend the rest of the day laying on the couch. I won't. But I want to. I'll probably end up staying home from church tomorrow since I don't want to infect the little ones in my charge with a throat and nose issue (nursery kids, not to mention that Jack has a nose that will not quit).
The hardest thing for me this week was not saying "I already worked out once today, I really don't need to do it again." I succumbed once on Thursday, but I'm not beating myself up about it since I feel like illness is a valid reason. I also pushed it all the harder on the day after to help make up for it a little bit. I just continued to repeat to myself "I'll rest on Sunday". I can assure you I have never looked forward to "the day of rest" as much as I did this week. My day of rest will be oh so sweet. It made me wonder if part of the reason some people don't like the Sabbath as much as they should is because they don't work as hard as they should during the other six days of the week.
My poor run this morning not with standing I can happily say that this weeks hard effort was not in vain. My weight after Christmas was 152. This week it is 148.5. I don't expect this much progress every week, but it's nice to know that it is working. And it will continue to work as long as I do.