Pretty Darn Funny!
A lot of you have already heard of the new web series, Pretty Darn Funny!  I must say, that it is pretty darn funny.  Did you know that they have a soundtrack?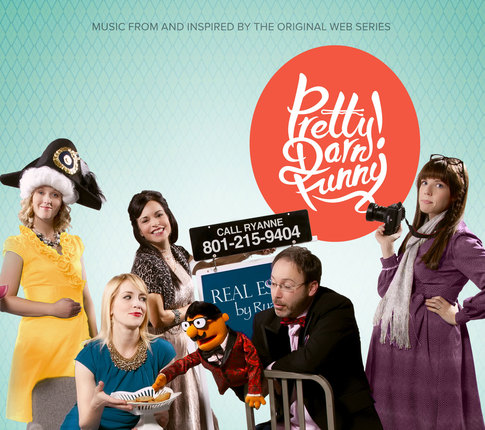 A soundtrack that is pretty darn great!  It is a compilation of some of the many talented women we have come to know and love through Deseret Book; including Mindy Gledhill, Stephanie Mabey, Mercy River, Catherine Papworth and more.
Now you folks know me well enough to know that I listen to a very limited amount of music, I am more prone to listen to audiobooks during long stretches of time that I may have.  I have to admit that I don't know many of these artists, but after listening to what they have been able to contribute to this soundtrack, I cannot wait to get my hands on more!  Not only are these songs inspiring and reflective of my role as a woman, wife and mother, but these are perfect for a mezzo soprano like myself to sing along to!  Score!
You can listen to a little sampling of the songs in this interactive video:

I have to say that while I loved all of these songs (I thought Legacy was especially touching), my favorite was She Put the Music in Me.  Oh, what a wonderful song about motherhood and the power of music!  I was brought to tears as I thought of how often I hear my little girls sing the sweet songs that they learn in Primary and how their spirit and testimonies have helped mine grow.  Music really does have a powerful influence on our lives.  It's so important to choose good, uplifting media that will lift us up rather than drag us down.
How would one of you like to have your own copy of this baby?  Well, it just so happens that it is within my power to give one away to one of my readers!  Score again!  If you aren't feeling lucky or just don't want to wait, then you can pick up a CD or download the MP3's over at Deseret Book.  If you want to try your chances then check out the Rafflecopter below to help you easily enter (I love Rafflecopter).  You can enter up to five times 🙂 The winner will be announced Monday August 13th.  Good luck!
a Rafflecopter giveaway
If you have never used Rafflecopter before, here is a very short video explaining how to use it.  Your entry will NOT be counted if you only leave a comment, but trust me, this is WAY easier than leaving multiple comments!


How to Enter Rafflecopter Giveaways from Rafflecopter on Vimeo.
If you have any problems or questions about how to enter that the video didn't answer just email me or leave a comment and I will do whatever I can to help 🙂
{Disclaimer: I received this CD for my family for free.  I received no other compensation for this review and all opinions are my own.}