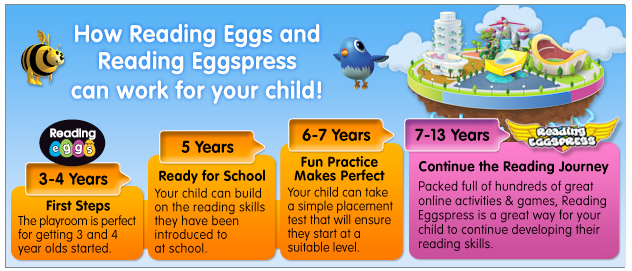 I was able to review Reading Eggs for several weeks and I must say, I was very impressed!
As I mentioned in a previous post, I have a reluctant reader, so any chance to use a program for review is fine by me!
I was impressed with Reading Eggs from the start.  The animation is great, the characters are engaging and it wasn't at all boring for the kids.
When we first logged on, Emma and Spencer each did an assessment of sorts to figure out where they should start.  Spencer started on map one, Emma map three.  Lucy skipped the reading eggs part all together and went straight to "Continue the Reading Journey".
When you start your lessons you are greeted with a cute little duck that "walks" you through your lessons on the map (you can change the animal if you want).  There was also an ant named Sam who gives your child the lessons.  For each correct answer your child earns golden eggs.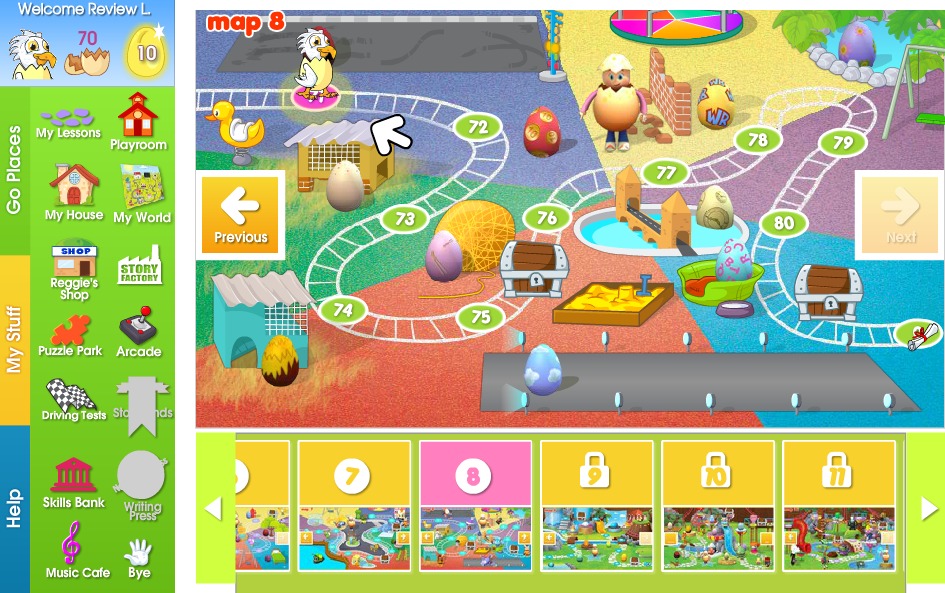 Spencer (4): He did really well with this.  At the start of our trial period, Spencer knew few letters and even fewer sounds and I hadn't worked on him at all with recognizing numbers.  By the end of our trial he had mastered nearly every lesson and could recognize the numbers too (even though it was just reading, no math).
My only hang up was since we are using a laptop, we have a touch pad and it was difficult for Spencer to figure out how to drag the letters and icons where they needed to be.  On the part where he was supposed to match the word with the right picture it took so long with the touch pad that for some reason the program would not let him advance.  Once he had gone through it I had to do over again so that it was fast enough to go to the next part.
The transition from letters to words is seamless and well thought out.
After his first "quiz" (every ten lessons) I got an email that said: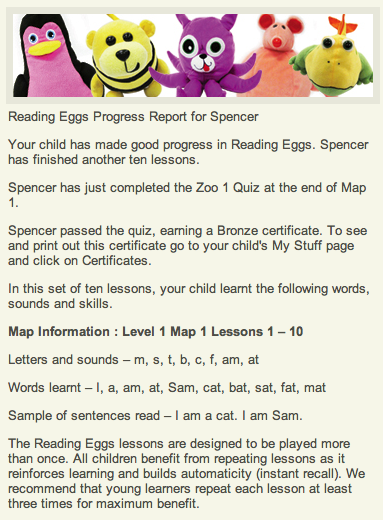 Emma (7): Emma did really well with this too.  She really looked forward to her computer time and completed 75 lessons in the few weeks were able to use it!  To be perfectly honest, however, I didn't pay nearly as much attention to Emma's experience as Spencer's. She seems to be more confident though.
Lucy (9): Lucy was really excited at first.  By the end of the trial period she was over it.  She had basically done everything worth doing and since Lucy is not a "game" person on the computer, she got bored pretty quickly.  Apparently real books are more fun than computer ones 🙂
I would say that Emma and Spencer thrived with the program until they found the game portion.  After that they were more interested in playing the games than the lessons, then our trial was up.
I would say that Reading Eggs is by far, the best online reading program I have used!  If I were to purchase any online reading program, it would be this one!  I am definitely considering it for Spencer and maybe Emma.  Not for Lucy though, she was bored with it.
Reading Eggs is $9.95 a month, $49.95 for six months or $75 a year.  If you sign up additional children at the same time you get a 50% off discount off the price of your additional children.
The folks over at Reading Eggs should be pleased with the program they have put together.  And it is the most cost-effective program I have seen to date.
The only improvements I would make would be:
 less games and other "fluff" to distract the kiddos
I would LOVE an iPad app!!