Now comes the best part of our adventure.
The drive home.
While visiting Heather, there was quite the winter storm. But, storm or not, the Air Force doesn't wait for storms. Matt had to be back to work, so we needed to get going.
And we saw lovely things on the way.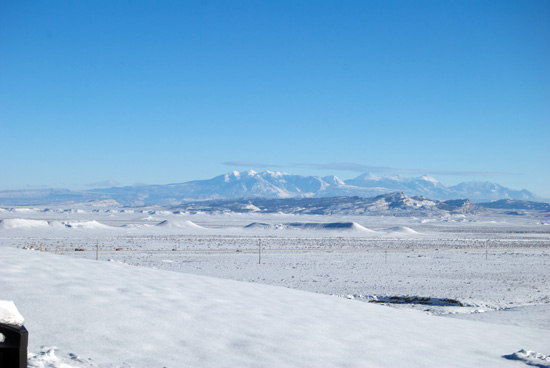 But about the time it started to get dark, we discovered that the pass into Idaho was closed.  It was just as well, the alternator in the van wasn't working correctly and we needed someone to look at it or the electricity wouldn't work in the car (no headlights).  We planned on sleeping in the van (since all hotels were full).  But a call from Matt's dad and my sister at the same time prompted us to call the local bishop and find a member to stay with.
We joined one other stranded traveler at a benevolent home.  It was there that I waited the next day while Matt took the van in to get fixed.  And it was there that I learned that elk meat is delicious.
It was also there that I lost my cell phone.  So if I have ever texted you and if you are not family, then I no longer have your number.
Around 3pm we were able to leave with an open pass and a perfectly working van.  We stopped at Salt Lake again for a quick over-nighter.
And so it came to pass that we rang in the New Year with Megan.  The kids got a little play time with Kinley, Tanner and Crew again.
After a fabulous breakfast of Pumpkin Pankcakes and Apple Sauce we braved the snow and ice (and frozen toilet seats in rest areas) on the final leg of our journey.  We rolled into town at about 5 am the next morning.
I have yet to wake up.