Yesterday, for the first (and probably last) time, Matt was able to come home early, so I spent the afternoon outside working on the table while the girls played pin the tail on the donkey and the boys wrestled on the floor.
The next step was really straight forward, I just had to attach two 2×4's to either side of both of the table ends.
As I looked closely at the plans for this table I noticed that the next few pieces called for rounded corners.  I tried a couple of times on a scrap piece of wood but couldn't get it right, so I opted for the alternate plans, which was just plain old 45 degree cuts.  It wasn't as elegant, but I didn't think the extra work would have been worth it at this point.  Maybe next time (made by my own hands or not, I am not moving all of this furniture in six years!).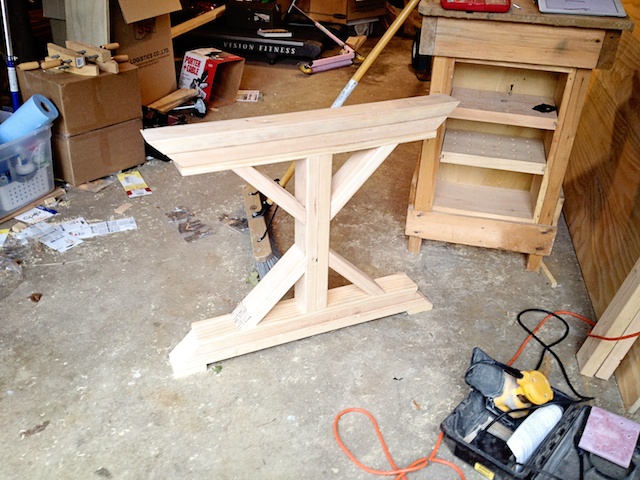 As I was putting these together I discovered how much I hate the 3″ screws I bought!  The metal was ridiculously soft, so much so that I almost stripped the heads of every screw regardless of how slowly I drilled or how big my pilot hole was.  I was glad I only needed two on each side (the glue is what really holds the wood together).  This one was stripped so bad that I couldn't even get it out once I discovered it wouldn't go in any farther.  I cut of the top with Matt's bolt cutters and hammered it down smooth.  I wasn't too concerned about the looks since this would be covered by the table top, but I wanted it smooth so that the top could sit flush upon it.  But it turned out ok in the end, Matt came down, saw what had happened and managed to unscrew it even without the head so I was able to put a new one in!  I should have asked him what to do to begin with.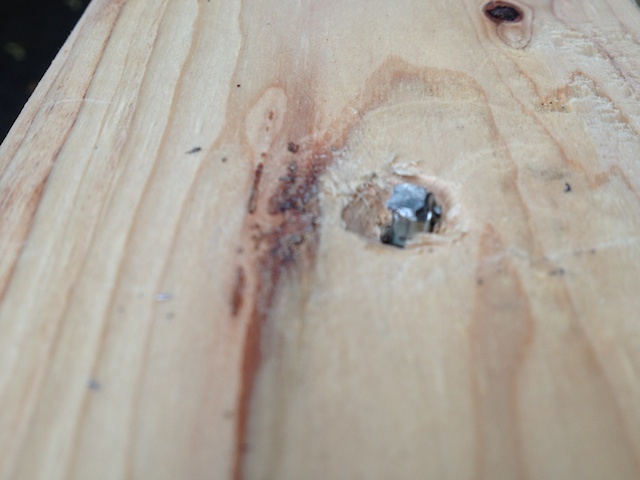 After I had finished this I went upstairs to make dinner (strawberry milkshakes, if anyone was wondering 😉  I love it when Matt suggests what to have for dinner).
After dinner was over, it was still plenty light out, so I went back out to work while Matt studied.  Next I had to attach the two ends together.  For that part I used a Kreg Jig.  This is the one big tool that I needed to make everything work that we didn't already have.  I picked it up at Home Depot before I started my project.  I love it and I can honestly say I wouldn't have even attempted this or any other woodworking project without it.  I've wanted to build furniture since I had first seen the New Yankee Workshop years ago.  But Norm always needed to build several jigs before he could even get started on his project, which was way to complicated and required entirely too much time (remember I have four kids at home.  All. The. Time.).   Ana White and this tool changed that.  Now everywhere I look (and by "everywhere" I mean "pinterest") I see tiny housewives using their Kreg Jigs to build beautiful, custom furniture for their home and some have even started selling what they make!  Amazing.  You can check out the videos here.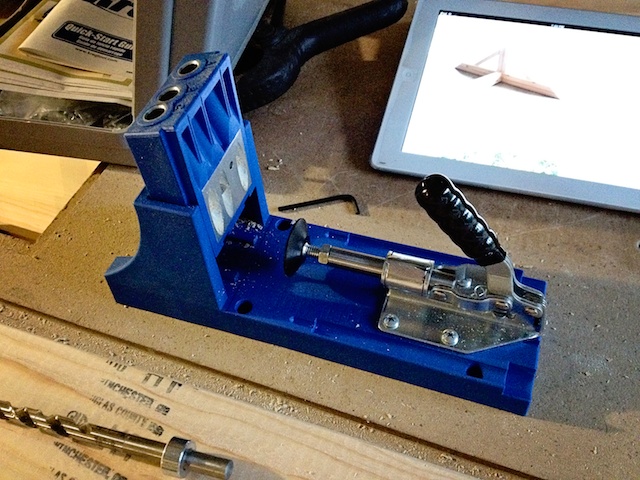 Anyway, I adjusted the jig to the specks of the wood and screws size, clamped the wood to the jig…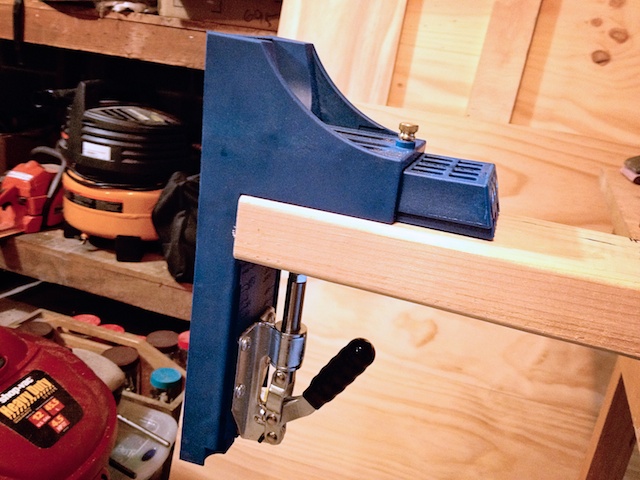 and using the drill bit that comes with it, I drilled two perfect pocket holes.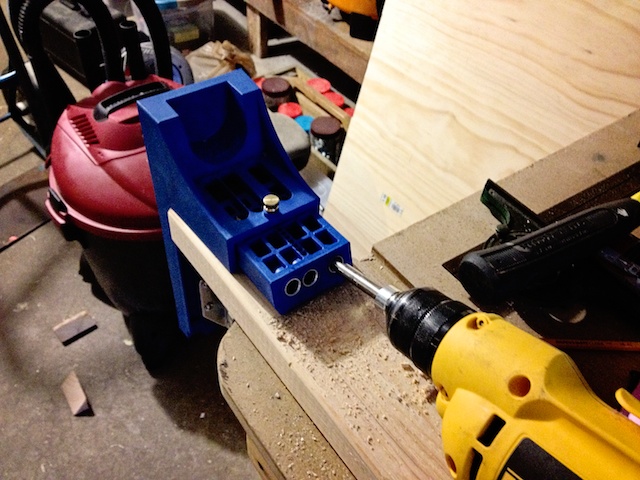 When I was done with all of my pocket holes I attached two beams to the table ends (holding the beam in place was a piece of scrap plywood).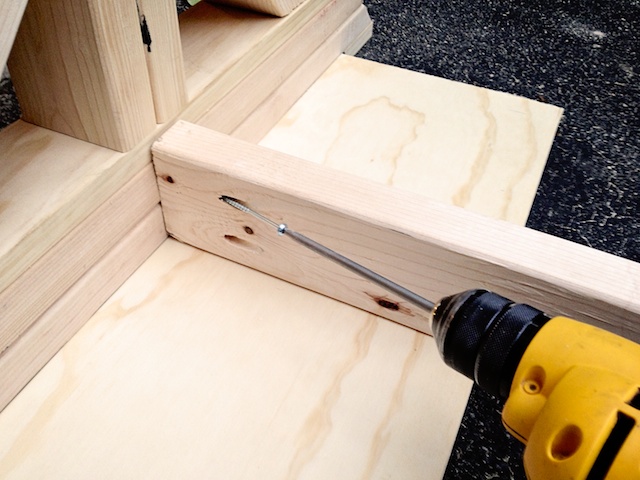 Starting to look like a table now!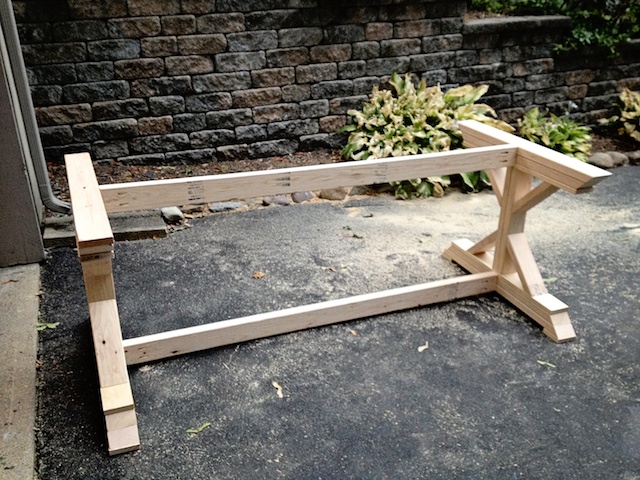 That was all for yesterday.  But I was so close to being finished with the bottom that first thing after breakfast this morning we all went out to play!
Lucy is so good about sticking to her baby brother like glue.  Lucy and Jack did this…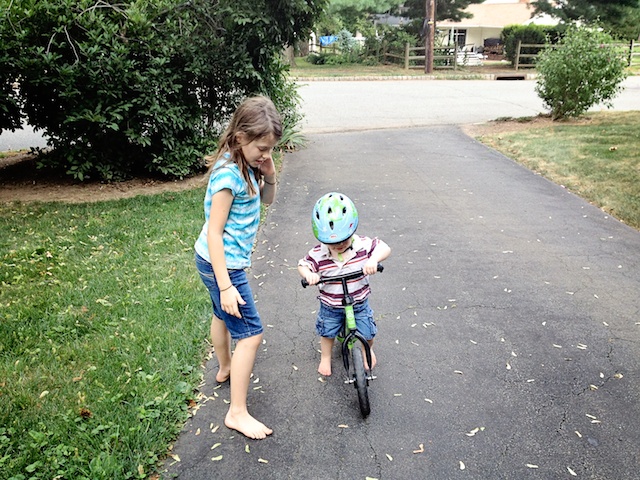 while Emma and Spencer did this (and I had a heart attack, after which I took a picture then immediately directed them to some older, thicker, stronger and not nearly so tall trees that they could climb to their heart's content).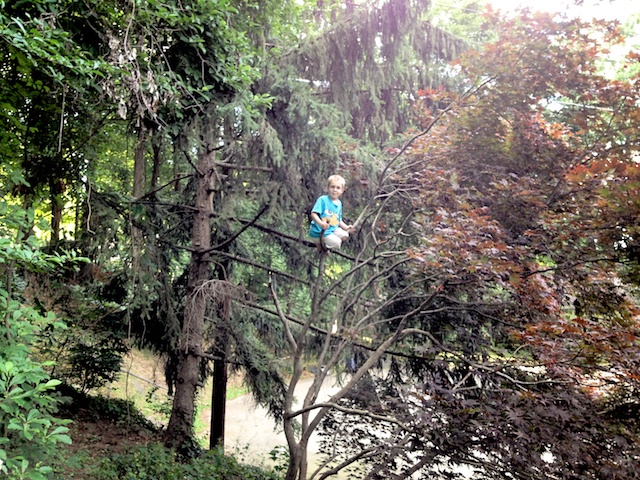 And while I did this (notice the belly bumping into the table.  I wonder how long I'll be able to get away with this kind of project):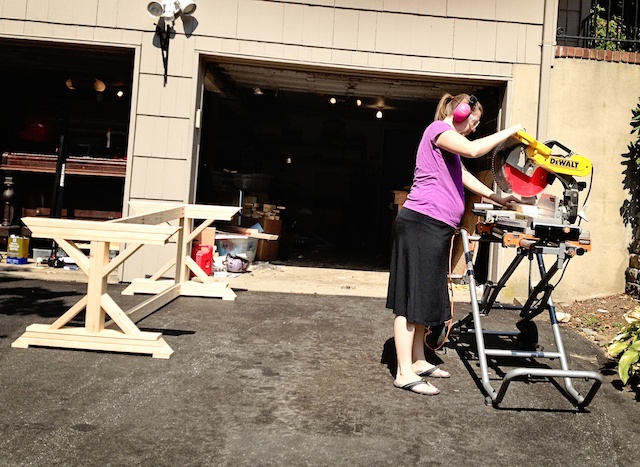 Yes, I'm five months pregnant and have yet to accept that I have to wear maternity clothes.  We thought we were done after Jack so I got rid of most of my maternity clothes.  I just keep grabbing the next size up in my closet or relying my stretchy t-shirts or on the elastic of my skirts to keep me from having to shell out the big bucks.  I know I'll have to do it one of these days, but I really hate to.  I'd rather spend the money on books (or wood).
Safety first in my ear muffs and eye protection (I say as I wear a skirt and flip flops)!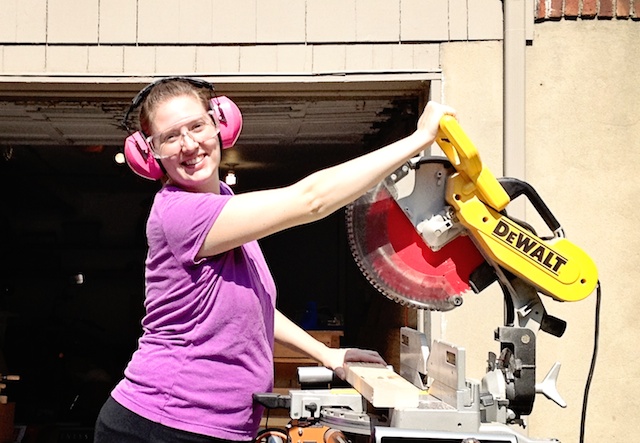 I had to cut the bracers to put between the beams of the table at parallel 45 degree angles.  For that I adjusted the miter saw to the right angle and drew a line on the wood so I could line up the line with the saw blade before I started cutting.
Fortunately for me, Matt has an affinity for old things.  He's been collecting old and antique tools for years and I love it when I get to use one of them.  This is a straight edge.  I usually keep it at 90 degrees so I can tell if things are square.  Today I just loosened the middle screw, lined it up to 45 degrees, tightened the screw back in, grabbed my pencil and voila! A perfect 45 degree line on my wood!  I knew just where to cut!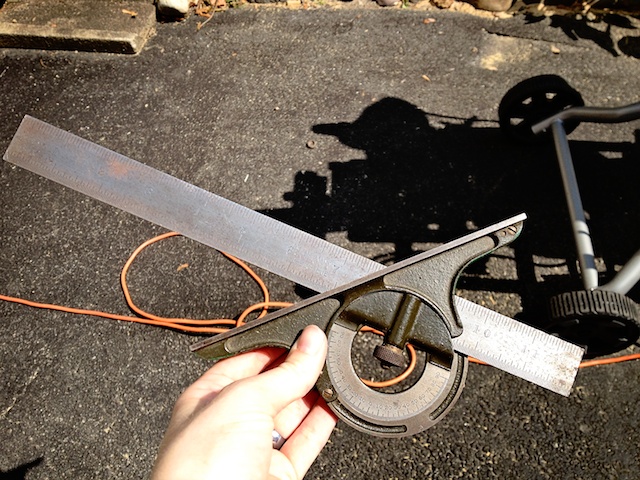 For some reason, the measurements in the plans were too big for my beams.  I don't know where I went wrong, but the only thing to do was to just keep cutting away until the braces fit.  The plans called for them to be 30 3/8″, mine ended up being 28 1/4″ for a perfect fit.  I'm just glad they were too big instead of too small!  It's so much easier to cut off more than to find an extra 2×4 in the garage 😉  I'm also glad that they were a perfect fit on both sides of the table, at least my mistake was consistent!
When I had the right fit it was time to drill the pocket holes.  This time, since the wood I was working with wasn't 6 feet long, I clamped the Kreg Jig to the table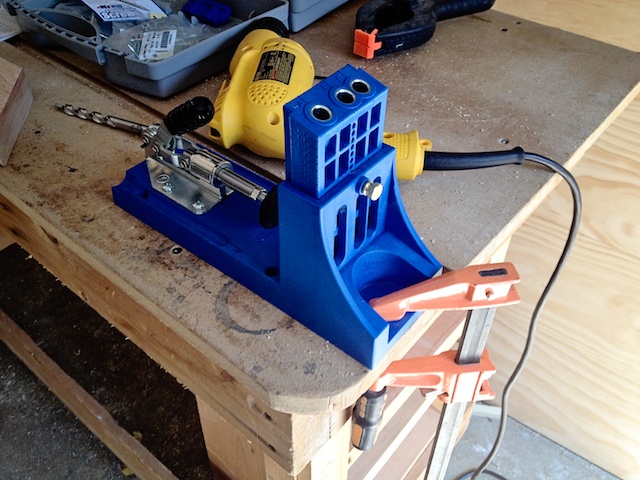 then clamped the wood to the jig.  It took a bit of finesse to get the wood to fit just right so I could drill two holes (I wanted two holes for extra stability).  Then drill baby drill!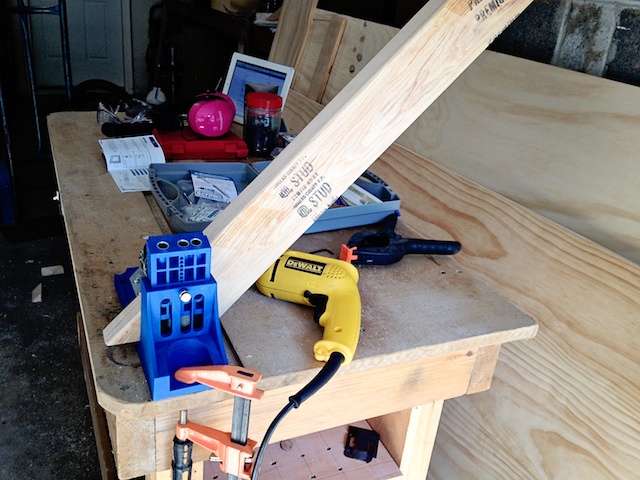 I screwed them in place and just like that, the bottom is done!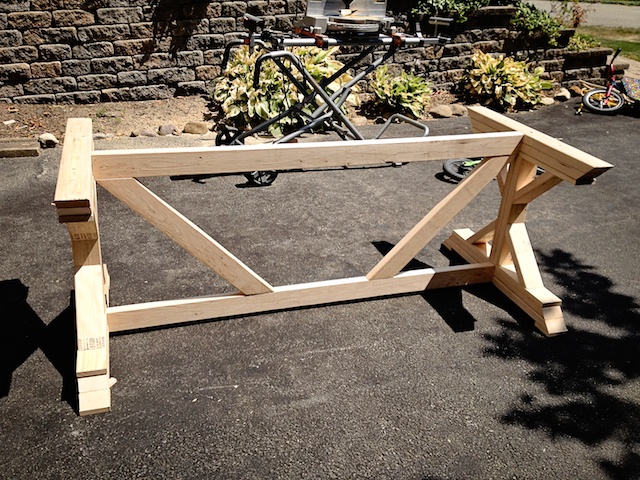 Next time, my puzzle of a table top!