The last several months have been extremely hectic.  We had an inkling we would be moving more than a year before we actually did.  We KNEW we would be moving (and where to) in February.  I wanted to get a head start on the packing in order to avoid the last two disasters that passed for moving, so I started packing up things we wouldn't need six months ago.  Matt and I also knew we wouldn't be able to pack at all during the month of April and at the beginning of March I declared it "summer vacation" (which was cool since I started school last year in May) so that I would have one less thing to stress about while preparing for our move.
Not having school while I prepared for a full DITY (Do It Yourself) was helpful in a lot of ways.  Not so helpful in others.  Anyone with kids knows the effect that months lacking in purposeful direction and too much TV can have on the attitudes in the home ("I know you want to be read to but I have to take apart your bed, go watch Cars for the 56th time today"). I should not forget to mention a husband who can't help because he has to spend every spare moment studying and a surprise pregnancy with accompanying morning sickness and emotional instability thrown into the mix (I swore I would never do a DITY move while pregnant again but by the time I found out, we had already packed more than half of our house!).  The logistics of our month long vacation and subsequent move has been extremely stressful on all of us.  Saying it has been a really rough few months would be the understatement of the year and I am extremely grateful for the knowledge that we will be here for six years while Matt does his residency.  This is only our second Air Force move and I have no idea how some families do it every year or so.  We have too much junk.
But the light at the end of the tunnel is starting to brighten!  I have only one room that needs to be organized (guest room/craft room, SO not a pressing priority) other than the basement/garage.  I promise pictures of the new place once I unearth my camera and have some time to edit them to make them pretty.  In the mean time we are starting our next school year in just over a week, and I am trying to squish out the bad habits and attitudes that I have allowed to creep in during the last few months (and there are many).
Another thing I have had to do is to ease my kiddos back into our former and no longer familiar calm and peaceful existence.  It has not been easy.  Chores have been ignored, family dinners have been almost nonexistent, respect and kindness to each other has pretty much gone by the wayside and any behavior issues that I may have had with them prior to the move has only been exacerbated.
I started by limiting TV.  I would love to just eliminate it all together for a while, but I'm still pregnant and very tired.  Sometimes Mom just needs to lay down and little boys need to be distracted long enough for that to happen.  I have to be realistic.
As we know, nature abhors a vacuum.  I can't just take something away without filling it with something else.  I've set up the speakers in the living room and they have spent many an hour dancing and singing to educational and uplifting songs.  There has also been a lot of sitting on the rug in the school room looking at books and reading.  I would love to say that there has been a lot of riding bikes and playing outside, but alas, this is not the case.  There is still too much for me to be doing inside to go supervise the kids outside (not to mention the INSANE humidity out here.  I've moved out of a hair dryer and into a sauna).
It's been both refreshing and difficult getting back into the swing of things.  The kids have been used to playing on their own and choosing their own books and pretty much doing things on their own.  So when I say "can I read a book to you?" half of the kids love the idea, the other half wants to keep doing what they want.  But we'll figure it out.


One of the first books I pulled out to read to them was Liberty Lee's Tail of Independence by Cheryl and Peter Barnes.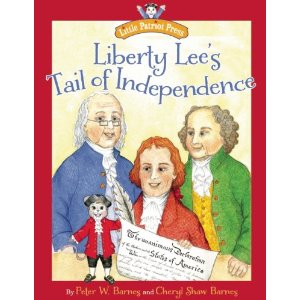 This is highly appropriate given the upcoming holiday. Once I assured Emma and Spencer that their other book would still be there when I was done, they reluctantly gathered around while I read.  It didn't take long for them to decide it was worth walking the three steps over to where I was sitting.
We really like this book.  It's narrated by "Liberty Lee", a mouse friend of Thomas Jefferson who stood by his side during the writing of the Declaration and the Revolutionary War.  It is written in verse and is a fairly easy read for a mom who stumbles over words as she reads out loud (not that I do that, of course, but you know, some people do).
The story starts with a short summery of Jamestown and the 13 colonies.  But the meat of the book is in the description of the events leading up to the Revolution, the grievances of the colonists and the substance of the Declaration of Independence.
Just to give you an idea
"There are times, 'in the course of human events'
People want to create their own governments.
That was the purpose of our Declaration,
Which stated the reasons for our separation…
From Britain – our homeland – and a King far away
Who hurt and mistreated us day after day.
'Separate and equal' would be our new station,
To govern ourselves in our very own nation!"
The illustrations are beautiful and vibrant with plenty of good stuff for non-readers to look at.  There is an eagle hidden in every illustration which makes for a good finding game for the kids, but they really liked just looking for the mouse (please excuse the flash, I can't find my good camera).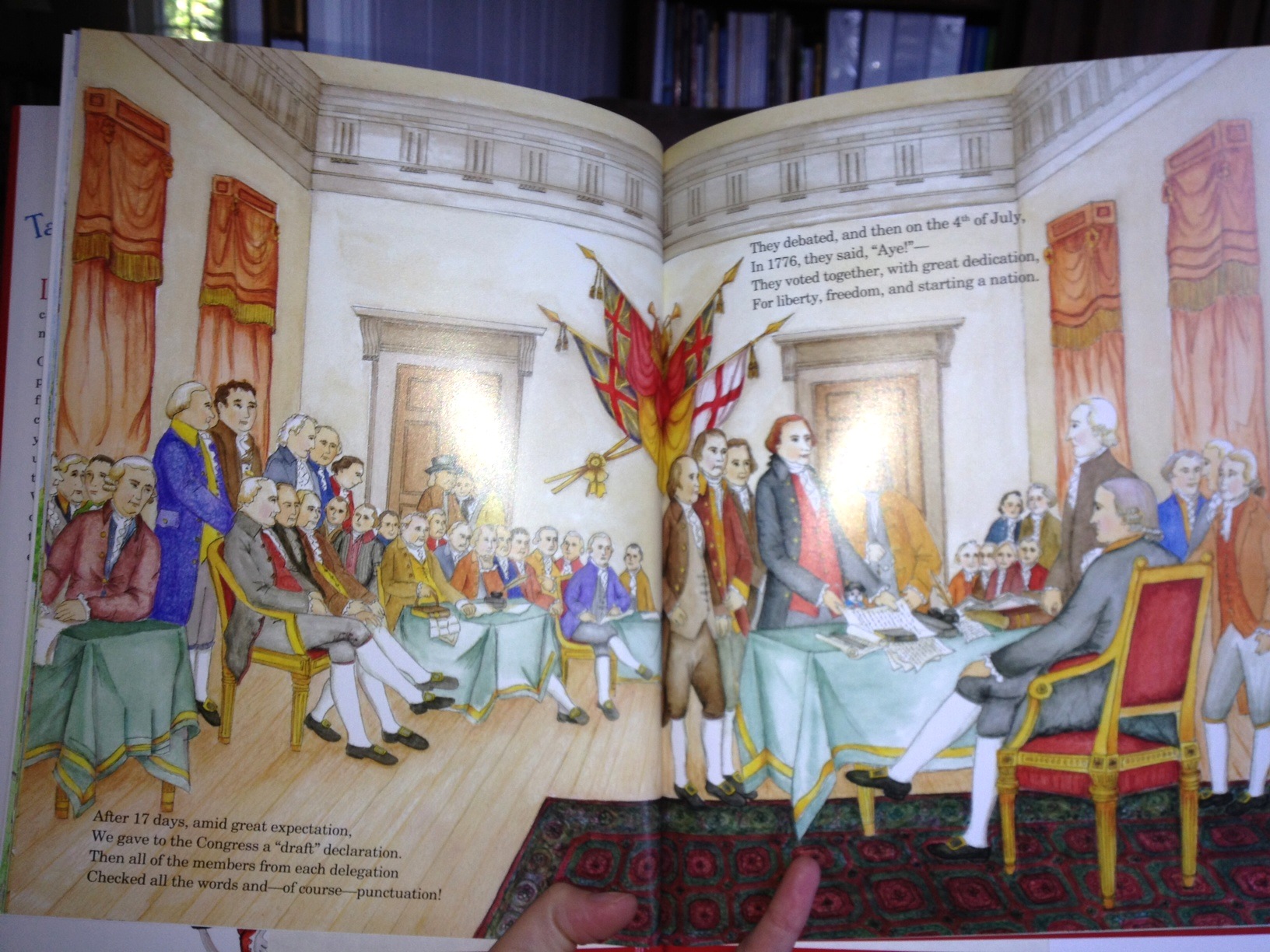 The last several pages have facts and other resources for parents and teachers about everything that they touched on in the book.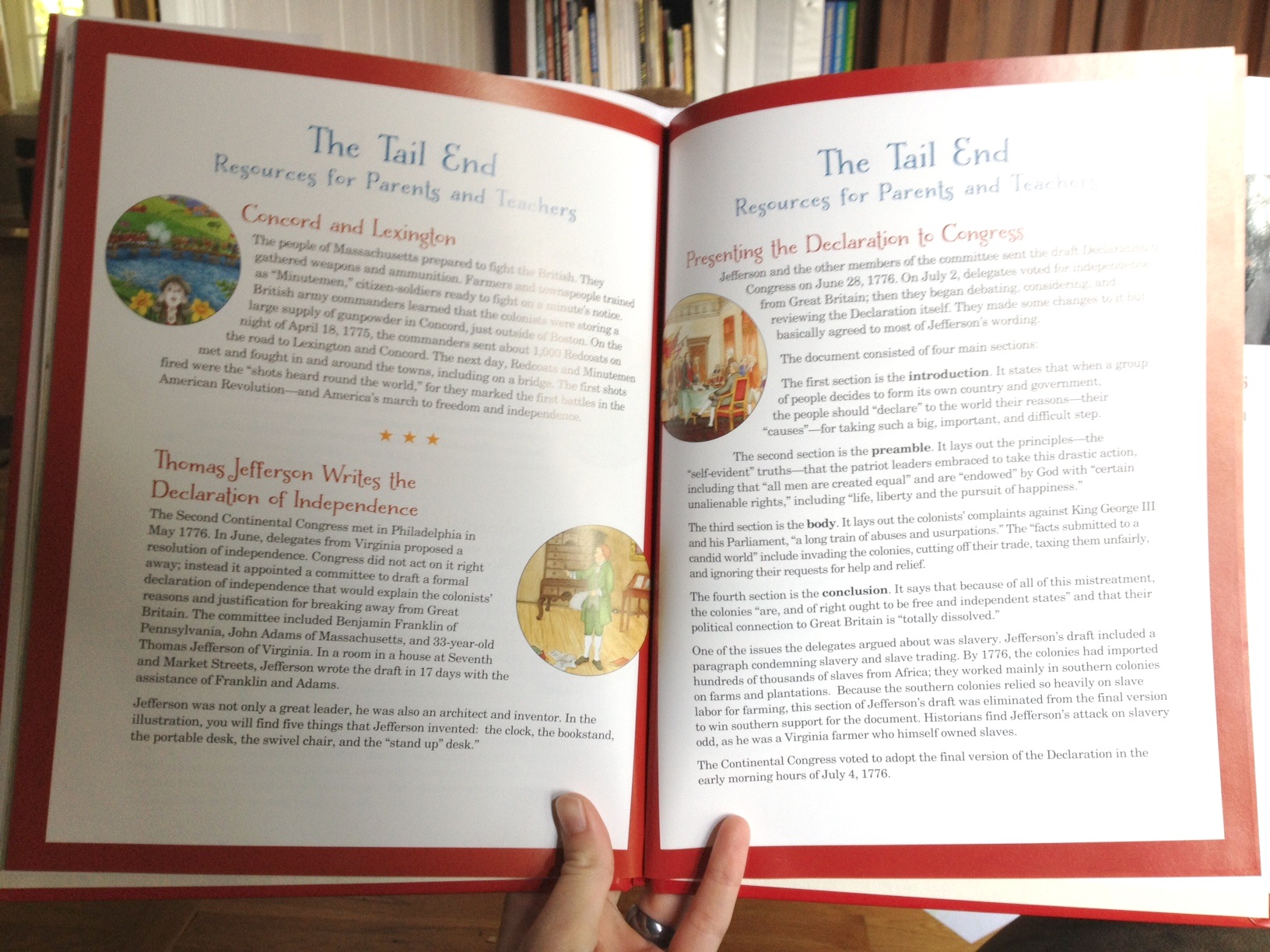 Now, obviously Liberty Lee is a fictional character.  Thomas Jefferson, to the best of my knowledge, did not have a mouse sidekick.  This is not a problem for me, but I know that there are some people whom it would bother.
Cons: The only problem I had with the book (and this is very nit-picky, I admit) is that the government that was created with the Declaration of Independence is not the same government we have today.  The book didn't necessarily say that it was, but if I didn't know the history I could very easily infer that.   The Articles of Confederation were very different than the Constitution and they were replaced for a reason.
Like I said, very nit-picky and hardly worth mentioning, especially because I have no idea how they would have incorporated the creation of the Constitution into this story of the Declaration of Independence without making it ridiculously long.  Though I would LOVE to see a companion book addressing this topic!
The Barnes have written several other books that I have yet to be able to read but I am looking forward to getting my hands on them.  I love the idea of making civics and government exciting for kids and easier for them to understand.
{Disclaimer: I received Liberty Lee's Tail of Independence  for my family for free.  I received no other compensation for this review and all opinions are my own.}