For the last few weeks we have been planning a family camping trip.  Nothing too extravagant.  Just an overnighter up in the mountains 45 minutes from home.  Matt and I used to camp a lot as newly weds, but we haven't been since Lucy was a baby.  We have a nice big tent so we felt it was high time we break it in somewhere other than our backyard.
Depending on how you define "camping" our trip was either a huge success or a dismal failure.  I choose to look at as a huge success.
Here is Spencer helping put the tent up.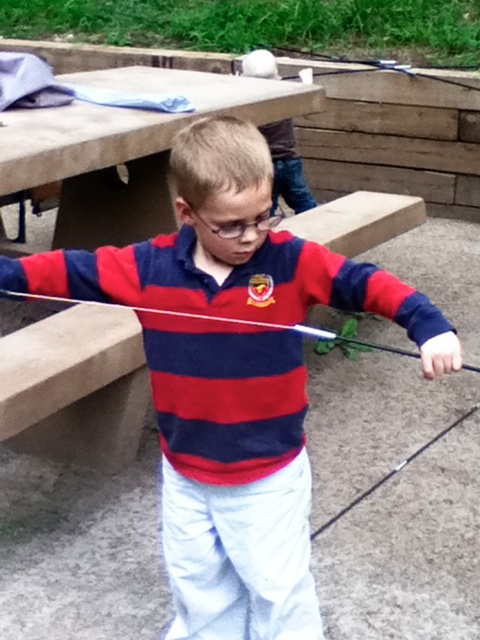 And Jack doing his part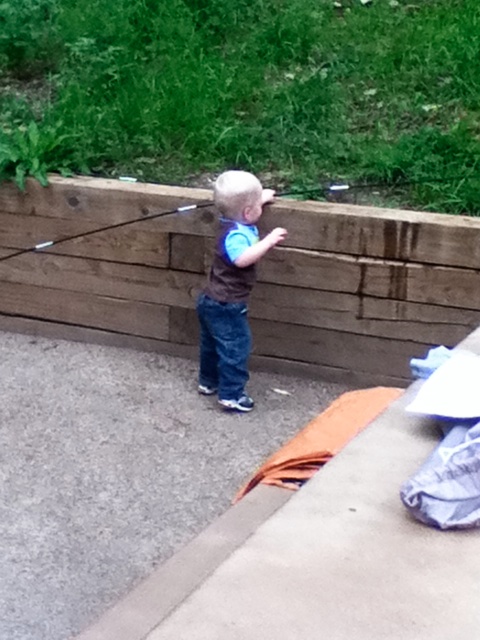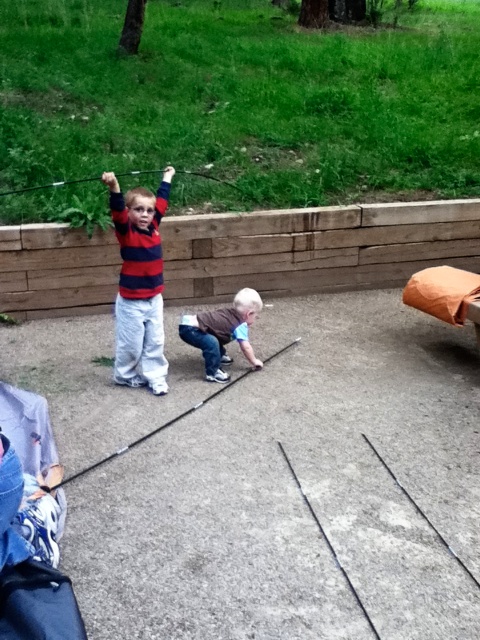 The girls opted to look for pinecones and pick wildflowers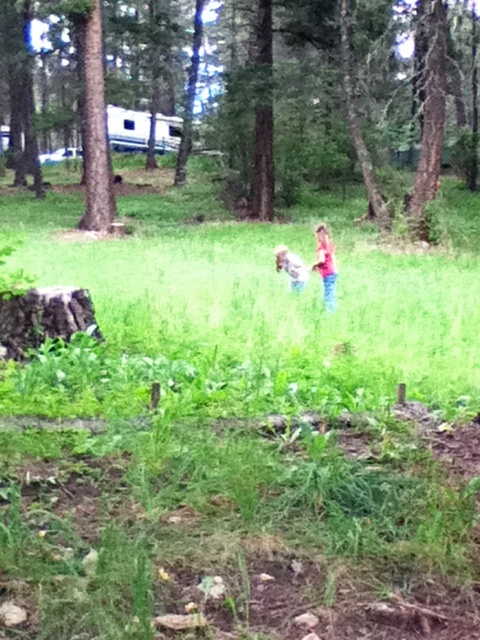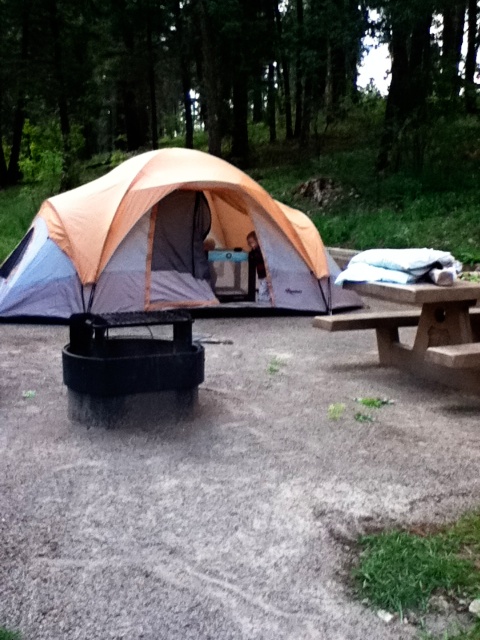 And this is where a boy finds a stick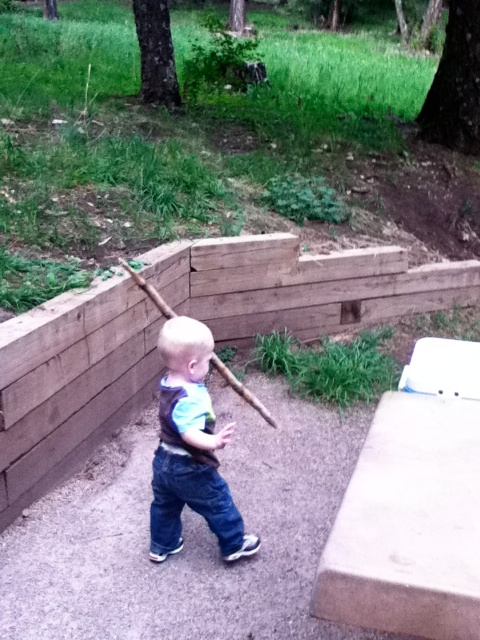 And walks with his stick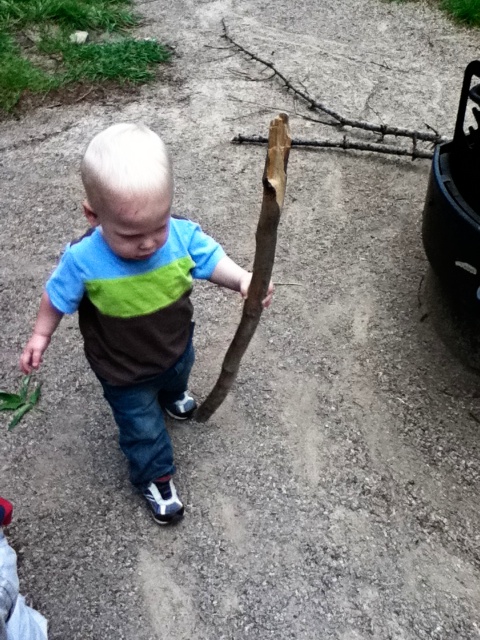 And sits with his stick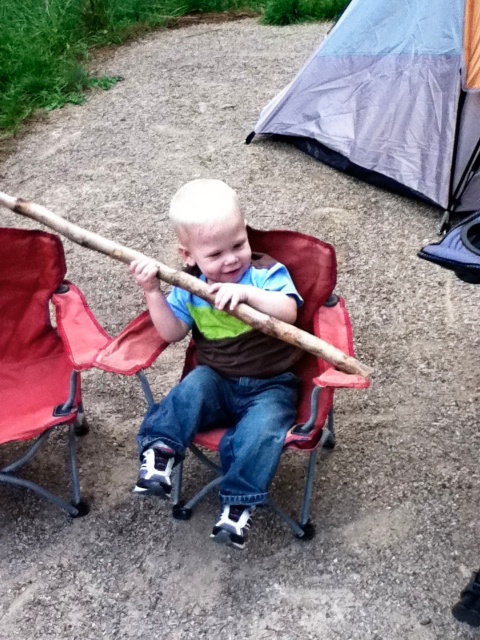 Mine.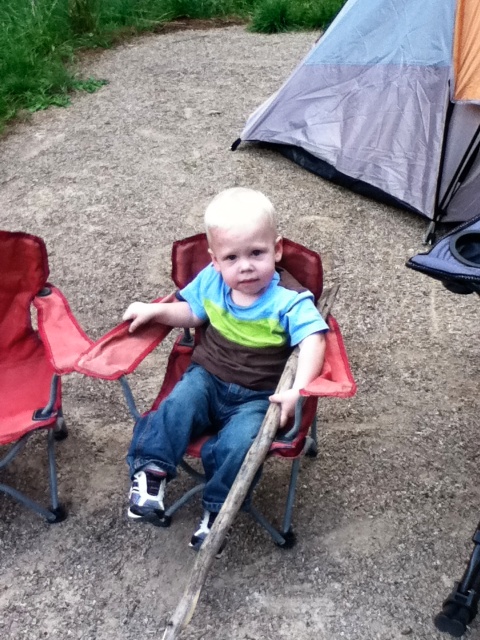 "Jack, this is how you get into stuff and make a mess."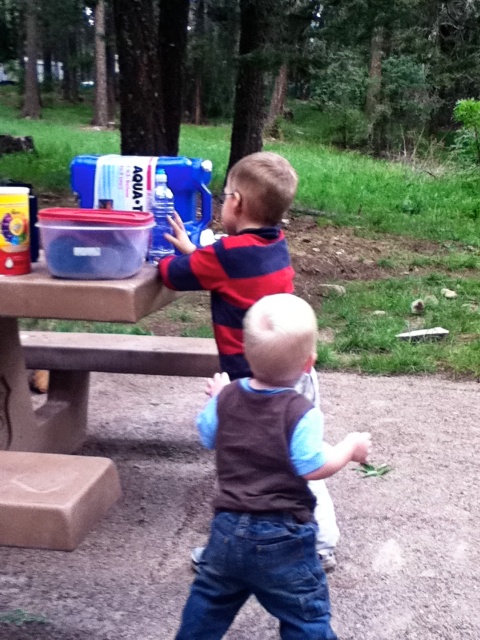 "Sweet!"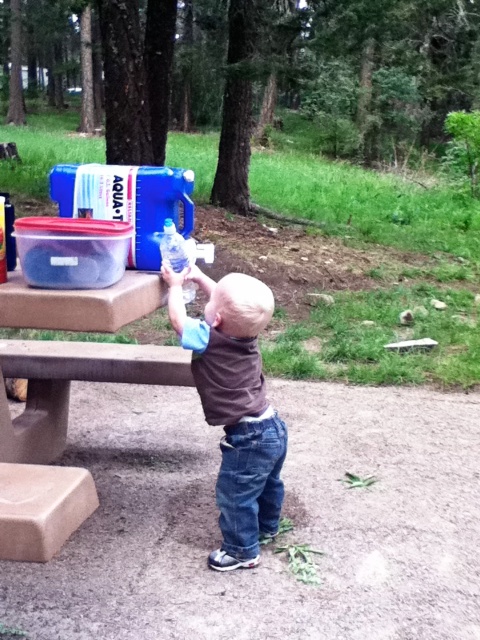 Ripping trees up from their roots to use for firewood.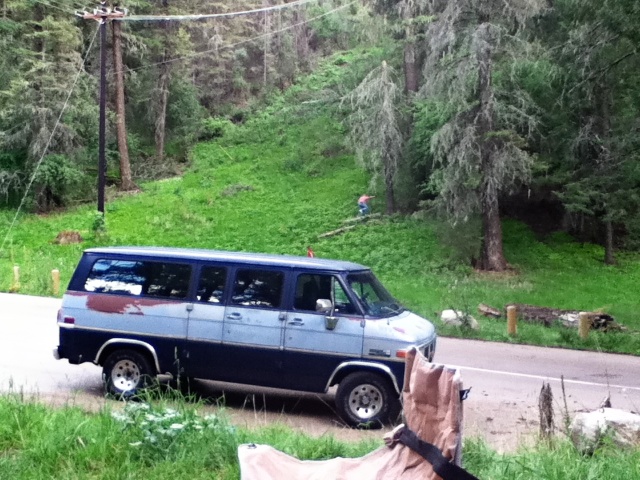 Ladies, I'm going to give you a tip.  Need a break from homeschooling your kids?  Go camping.  Dad will take over without any prompting, nagging or asking whatsoever.
Here is Matt teaching them how to start a fire.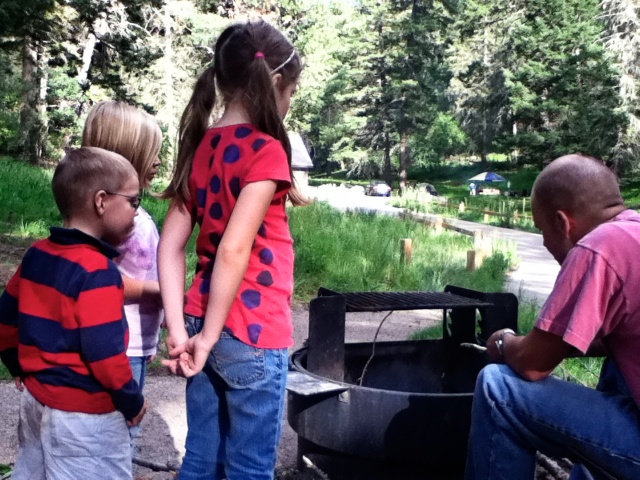 "I don't want to take a nap!  I want to help with the fire!"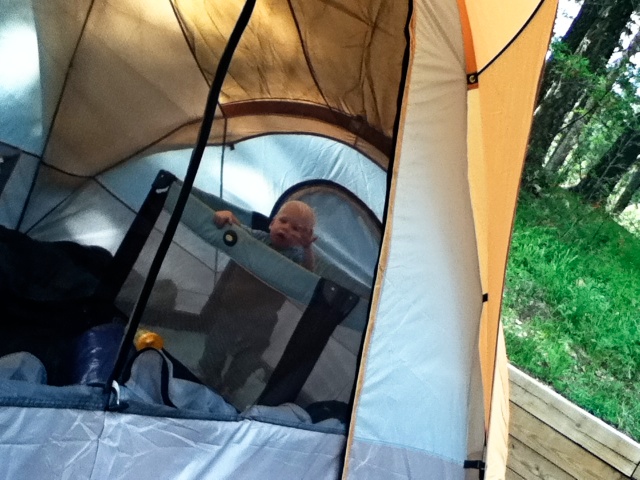 Everyone got to help make shavings for kindling.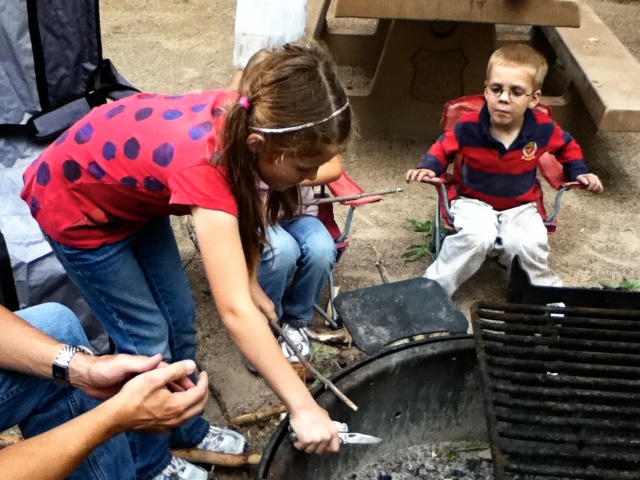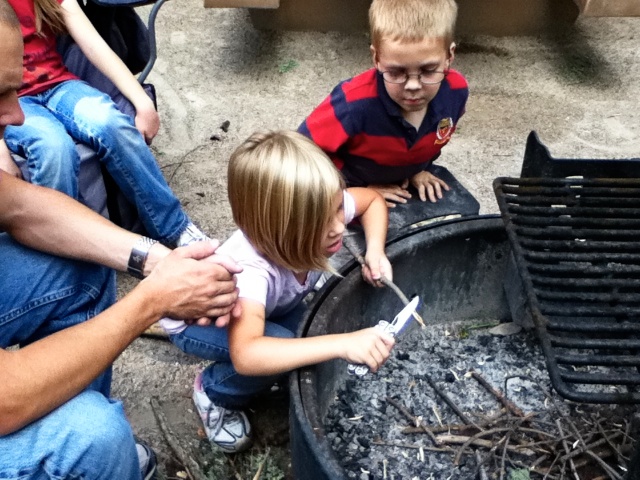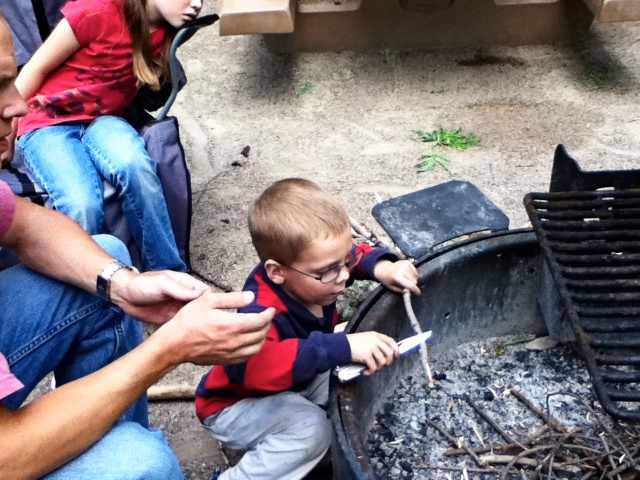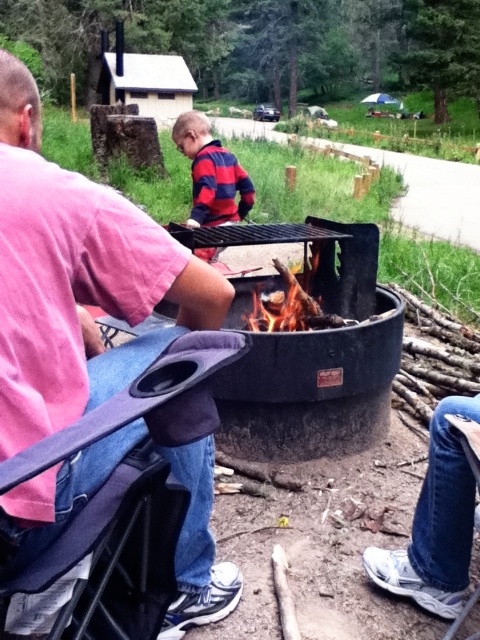 "See how this pine tree has reddish bark and the other pine trees have gray?  That means that this is a ponderosa pine.  Their bark smells like Neapolitan ice cream, go ahead and smell it!"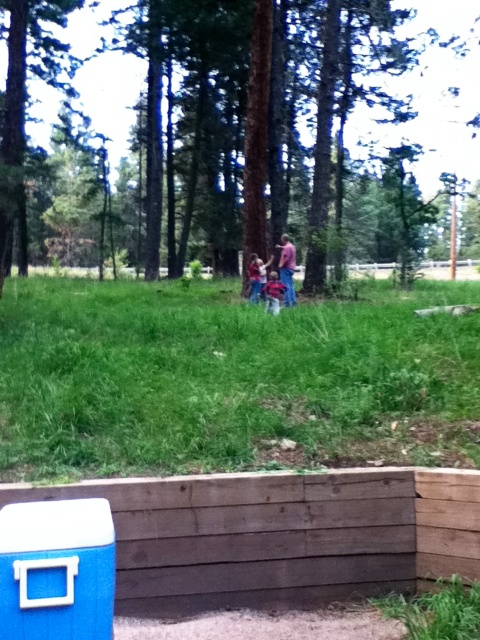 Lucy and I had prepared hobo dinners to cook.  Potatoes, onions and elk sausage.  YUM!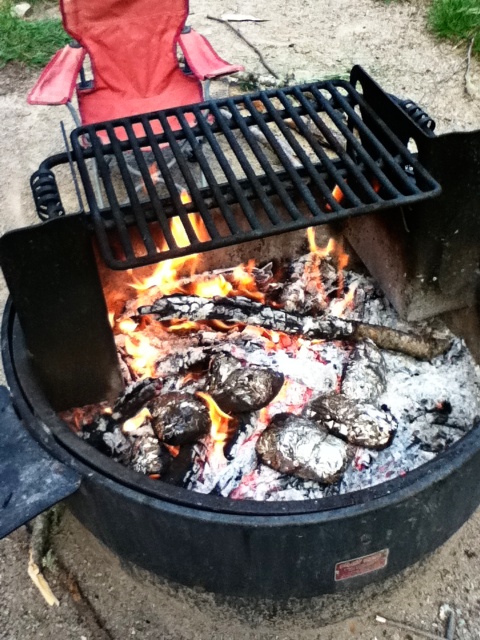 At least it would have been yum if we hadn't cooked them to the point that they turned to dust.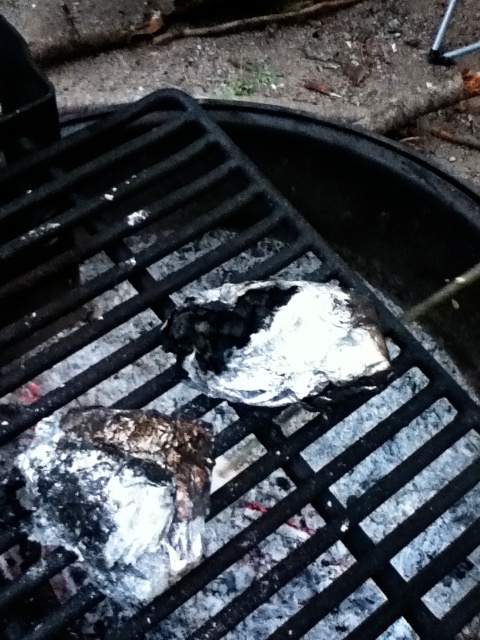 There were some edible pieces… but mostly it tastes like charcoal.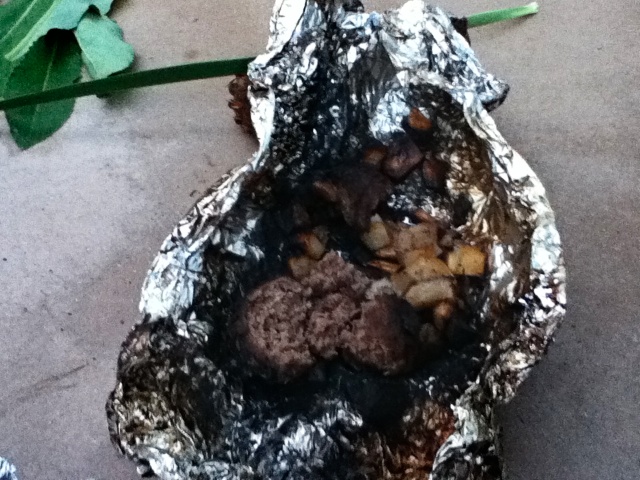 Fortunately we had a backup.  Canned biscuits on a stick.  Those were good.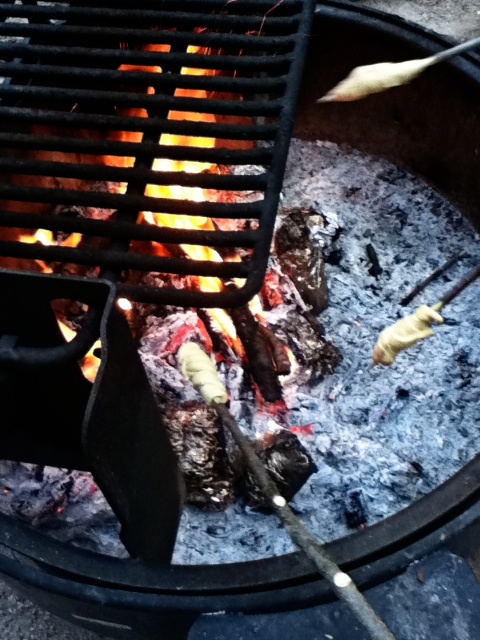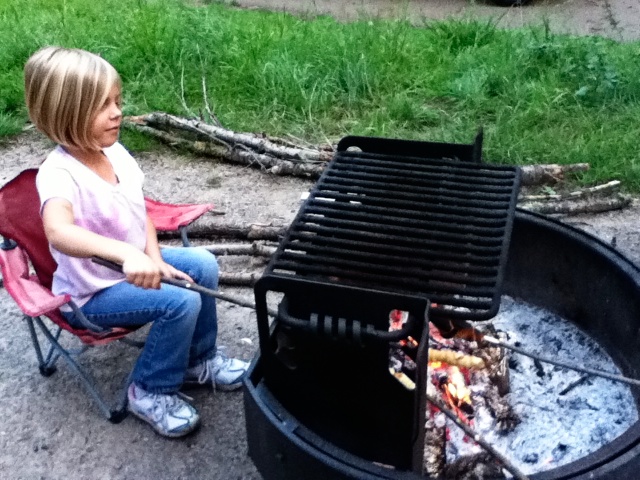 Jack gets to join the family while we eat s'mores.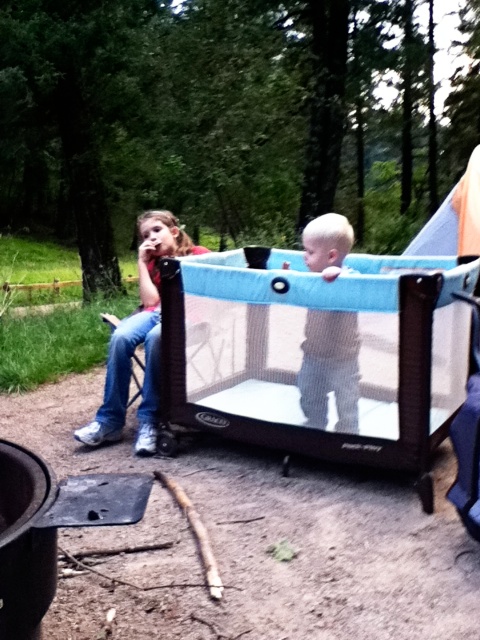 Pack and Plays are a must for mobile babies and fires.  Just in case you didn't know.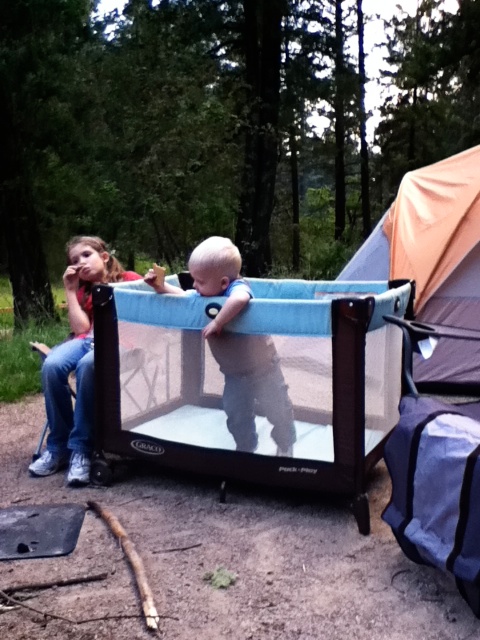 Does this girl know how to lounge or what?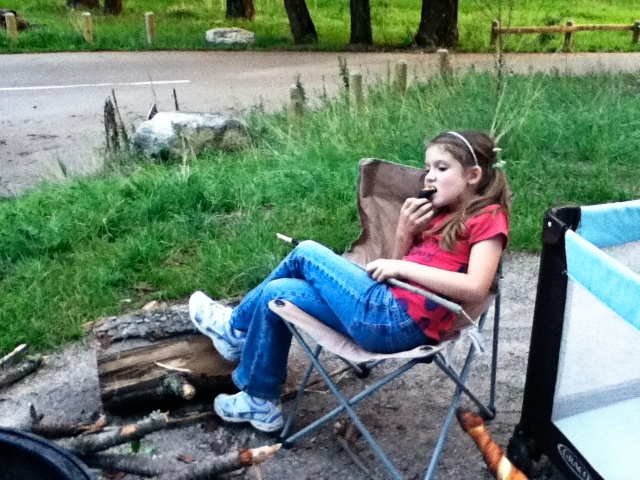 Matt with marshmallow on his face 🙂 Sorry about the poor quality of the photos.  I forgot my good camera at home and I used my iPod to take pictures.  Someone please tell me how people get those amazing phone pics!  This picture in particular was taken at dusk, so the iPod over compensated for the lack of light and the result is a lot of noise in the photo.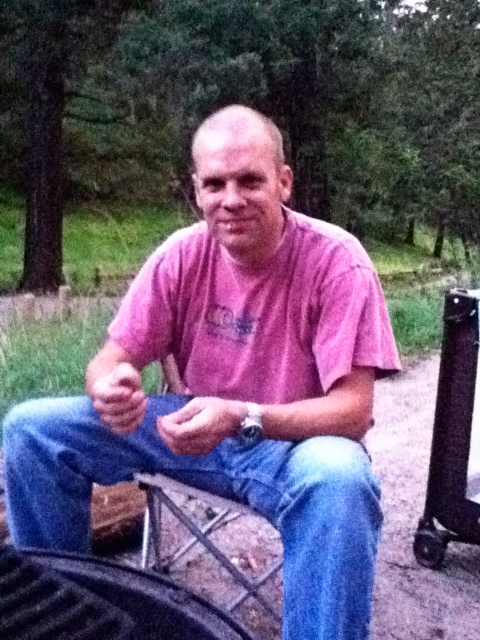 Up to this point it was a very enjoyable time had by all, almost no fighting.  Now it was time to put our food in the car and climb in our sleeping bags.  Lucy, Matt and I brought our headlamps so we were able to read for a while after dark.  The kids went out like a light, including Jack.  Matt seemed to sleep fitfully, but I had the hardest time.  I thought I was just a huge wuss from not being able to sleep on the ground anymore.   I tried to remind myself that my headache would go away once I got to sleep and that I had slept in a tent and on the ground countless times before with nary a problem.  At 1 AM, after moving to the cushioned seating in the van and taking a handful of ibuprofen didn't help, I succumbed to the harsh realities of altitude sickness.  Which, among other things, causes some to experience insomnia, nausea and headache.  I guess my poor body couldn't compensate for the almost 9000 feet of elevation any longer.  I dry heaved many times over in an attempt to throw up and my headache brought me to tears.  I don't remember ever having a headache so painful.  By 2, we had throw children, sleeping bags, chairs and tent in the back of the van and were on our way down the mountain.  By the time we were half way down my headache had subsided and I was starting to feel sleepy again.  The kids were good sports about it and sleeping in sleeping bags on our living room floor seemed to lessen the blow.
So our trip was a success because we all had fun, no one got hurt, the kids got to learn about fun stuff and it was just some good clean, family fun.  It was a failure because we didn't last the whole night and missed the much anticipated hike that we were to take today.
Maybe we'll go hiking on Monday.  No sleeping required.